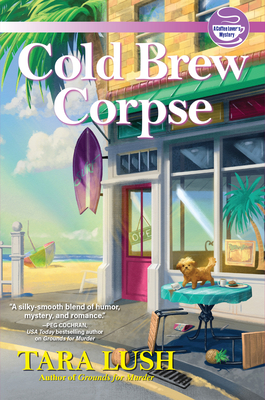 Cold Brew Corpse
A Coffee Lover's Mystery
Hardcover

* Individual store prices may vary.
Description
Espresso bar owner Lana Lewis returns in Tara Lush's second Coffee Lover's mystery, a stimulating read that fans of Cleo Coyle and Laura Childs will savor to the last drop.

It's a steamy September, and business is brisk at Perkatory, the hottest coffee shop in Devil's Beach, FL. Much of the clientele pours in from Dante's Inferno, the hot yoga studio next door. But the bright, sunny Gulf Coast days turn decidedly dark-roast when the body of the studio's owner turns up in a nearby swamp.

Between running Perkatory and training Stanley, her golden Shih Tzu puppy, reporter-turned-barista Lana Lewis is too busy to go sleuthing. But when the editor of the local paper asks her to write about the murder, Lana's dreams of getting back into journalism start to percolate.

Lana discovers that the yogi has a nefarious past and her share of mug shots, so grinding her way through the suspect list is a large task. She learns that the victim was fatally beaned by an SUV before she was dumped in the swamp. But was the killer one of her students? An envious yoga teacher? Or a local photographer who seems to know too much?

But no one tells Lana Lewis what to do. Hunting the caf-fiend who killed the yogi puts Lana and Chief Noah's relationship--and Lana's life--in very hot coffee.
Praise For Cold Brew Corpse: A Coffee Lover's Mystery…
Praise for Cold Brew Corpse:
"Enjoyable . . . Distinctive characters complement the twisty plot."
—Publishers Weekly

"A plucky heroine whose sleuthing inevitably leads to peril."
—Kirkus Reviews

"A mystery with all the right ingredients."
—First Clue

Praise for Grounds for Murder:
"Lana's voyage of self-discovery, along with her new agey father, quirky hire Erica, and feisty puppy Stanley, portend future fun for readers."
—Publishers Weekly

"A good read for a chilly weekend indoors." 
—New York Journal of Books

"A treat for all the senses...All's well that ends well, leaving a faithful audience of Coffee Mystery fans awaiting the next installment title with great anticipation."
—Midwest Book Review

"Grounds for Murder is a must for every cozy mystery fan to have on their shelves...a charming and addicting blend of humor and mystery."
—Seattle Book Review
 
"Tara Lush has created a main character who is smart, clever, and determined...and the mystery is well-plotted and engaging." —MyShelf

"Lush manages to braid the Florida-osity of things into a solid murder mystery...A compelling read."
—The Gabber

"A solid start to a new series."
—Red Carpet Crash

"Grounds for Murder was a delightful whodunit and has set this series off to a grand start."
—Escape with Dollycas

"The setting is written so well."
—Cozy Mystery Book Review

"A wonderful series debut that is a silky-smooth blend of humor, mystery and romance with a feisty heroine and a delicious island setting."
—Peg Cochran, USA Today bestselling author

"It doesn't matter if you like your coffee hot or cold, you'll love Grounds for Murder. Tara Lush brings the quirky town of Devil's Beach to life. You can almost smell the coffee and feel the heat. A sure winner!"
—Joyce Tremel, author of the Brewing Trouble mysteries

"A most delightful addition to your cozy mystery library."
—Harper Kincaid, author of To Kill a Mocking Girl 

"Tara Lush brews a fun Florida mystery, topped with a sweet frothy romance. Enjoy this blend of sunshine and quirky characters."
—Elaine Viets, award-winning author of the Dead-End Job mysteries
Crooked Lane Books, 9781643857886, 320pp.
Publication Date: December 7, 2021
About the Author
Tara Lush is a Rita Award finalist, an Amtrak writing fellow, and a George C. Polk Award winning journalist. For the past decade, she's been a reporter with the Associated Press, covering crime, alligators, natural disasters, and politics. She also writes contemporary romance set in tropical locations. A fan of vintage pulp-fiction book covers, Sinatra-era jazz, and 1980s fashion, she lives with her husband and two dogs on the Gulf coast.