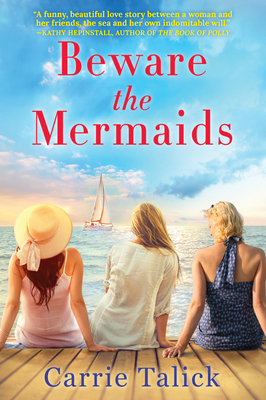 Beware the Mermaids
Paperback

* Individual store prices may vary.
Other Editions of This Title:
Digital Audiobook (8/9/2021)
Digital Audiobook (8/9/2021)
Compact Disc (9/7/2021)
MP3 CD (9/7/2021)
Description
Romance, betrayal, and an epic yacht race make Carrie Talick's debut novel perfect for fans of Elin Hilderbrand and Susan Mallery.

Hermosa Beach housewife Nancy Hadley is no pushover. So when her philandering husband, Roger, is caught in flagrante with an opportunistic widow on their racing sailboat, Nancy sticks it to him. She tells him she wants a divorce--with the sailboat, Bucephalus, part of the deal, too.

Roger would rather make Nancy's life a living hell than give up his boat. But Nancy has other plans. After moving out of their opulent home, she and her posse of girlfriends invest in a racing boat of their own to live on, and she teaches them the fine points of sailing. Meanwhile, and unbeknownst to Nancy, a big real estate development is under way that would destroy her beloved harbor and new home. When scheming Roger returns to ask Nancy to help capture the last committee vote--held by Nancy's old college friend--Nancy prepares for battle.

Nancy is not skittish about taking a few risks, so in a bold gambit, she makes a bet with Roger: a showdown in the thrilling Border Dash Race from Newport Harbor down to Ensenada, Mexico. The winner of the race will get everything they want.

The stage is set for the race of a lifetime--and the tantalizing possibility of new romance for Nancy--in a novel as heartwarming as it is breathlessly exciting.
Praise For Beware the Mermaids…
Praise for Beware the Mermaids:
"A compelling novel that explores later in life transitions and the value of female friendship."
—Booklist

"[A] smart, sassy, suspenseful story that sails through choppy waters and shifting tides of betrayal, friendship and new romance."
—Shelf Awareness

"Beware the Mermaids is a rollicking ride. Laugh-out-loud funny and brimming with heart, you won't want to put it down."
—Trish Doller, author of Float Plan

"With prose as sharp and witty as the heroine, Nancy Hadley herself, Carrie Talick has crafted the perfect female revenge novel. The setting of glittering yachts and ocean front mansions on the Southern California coastline is as carefully depicted as Nancy's friends and enemies, all adding up to a page-turning, engrossing read. Highly recommended!"
—Anita Hughes, author of California Summer

"Beware the Mermaids is a wild, unforgettable ride on the open seas—a tale of female companionship, adventure, and the will to change one's circumstances. Nancy, Hadley, and her pals are the heroes the world needs today. Sail with them and you'll find yourself empowered by whatever waves your own seas throw at you. A funny, beautiful love story between a woman and her friends, the sea and her own indomitable will."
—Kathy Hepinstall, author of The Book of Polly

Alcove Press, 9781643858241, 352pp.
Publication Date: August 10, 2021
About the Author
Carrie Talick originally cut her teeth as a writer at the age of seven on sarcastic, witty postcards to her dad and then became an award-winning copywriter who wrote the script for the 2019 Super Bowl spot "Elevator" starring Jason Bateman as a friendly docent to Hell.
When she's not writing, she's working on perfecting a Bolognese sauce, rocking the lower third of her Peloton leaderboard, driving her teen daughter to the beach, sailing the Pacific, and listening to Bill Evanson vinyl with her audiophile husband. She currently lives in a coastal community in California. This is her first novel.