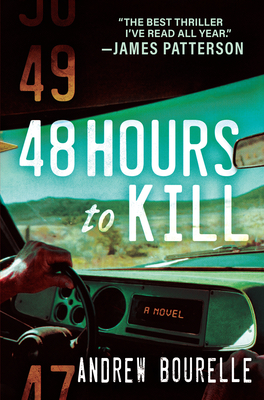 48 Hours to Kill
A Thriller
Hardcover

* Individual store prices may vary.
Description
A prison inmate on furlough learns a terrible secret about his sister's mysterious death—and descends back into the criminal underworld to uncover the truth, in this action-packed thrill ride James Patterson calls "the best thriller I've read all year."


Serving a ten-year sentence in a Nevada prison for armed robbery, Ethan Lockhart hopes that he can one day become a productive, law-abiding member of society. But society has other plans for Ethan. When he's given a forty-eight-hour furlough to attend his sister Abby's funeral, he learns that her body was never found—just enough blood to declare her dead instead of missing—and he begins to suspect that there's more to her death than was reported. Ethan decides to use his forty-eight-hour window to find out what happened. But to get to the bottom of the mystery, he'll have to return to his unsavory past.

Ethan teams up with his sister's best friend Whitney in a search for the truth. United in their shared grief, their chemistry—both emotional and physical—also begins to heat up. But romance goes on hold as the suspects mount. Ethan's old boss, Shark, a mid-level loan shark now heads a criminal empire. As Ethan and Whitney uncover more clues, they become convinced that Shark is responsible for the murder, but they have no proof.

If Ethan is going to solve his sister's murder in forty-eight hours, he will have to become the criminal he swore he'd never be again.

Praise For 48 Hours to Kill: A Thriller…
Praise for 48 Hours to Kill:
"Propulsive . . . Bourelle is a writer to watch."
—Publishers Weekly

"A fast-moving tale . . . [and] a great way to kill, if not 48 hours, then at least three or four."
—Kirkus Reviews

"By far the most intense crime thriller of the year, with viciously violent action, powerful dialogue and highly-enjoyable characters that leave a lasting impression on the readers."
—Best Thriller Books

"Bourelle really cranks up the pace—the book just flies . . . Netflix, please get on this!"
—First Clue

"Andrew Bourelle nailed it...The pace, the intricate plotting, the character development, all of it."
—Stygian Sky Media

"I'd gladly lie for Andrew Bourelle, but this is no lie – 48 Hours to Kill is the best thriller I've read all year.  This book is tough in all the right places, tense, surprising, and well written. It has characters you'll love and a couple that you'll love to hate. I was sorry to see 48 Hours to Kill end. I wanted to keep reading."
—James Patterson

"A perfect ticking-clock thriller, with depth, character and mystery - very highly recommended."
—Lee Child

"Wow! Andrew Bourelle's novel 48 Hours to Kill is a tension-filled read with non-stop action. What a ride!" 
—T.R. Ragan, New York Times bestselling author of Don't Make a Sound

"A great piece of modern noir, 48 Hours to Kill is a breathless, twisted, ticking clock of a novel whose convict hero will break any law and every bone to do what's right. I hope to see Ethan Lockhart again very soon!"
—Christopher Golden, New York Times bestselling author of Road of Bones and Ararat

"I was glued to the pages and rooting for Ethan Lockhart so badly I couldn't tear myself away from this edge-of-the-seat, tightly plotted read. ​Action-packed and utterly compelling. The perfect thriller." 
—Carol Wyer, bestselling author of An Eye for An Eye

"Andrew Bourelle's 48 Hours to Kill is a hard-boiled, adrenaline pumping, thrill ride, with a protagonist so driven he'd give Reacher a run for his money. A first-rate thriller!" 
—Bruce Robert Coffin, award-winning author of the Detective Byron Mysteries

"Compulsively readable, with characters I immediately cared about, well-drawn action and a ticking clock, I finished Andrew Bourelle's 48 Hours to Kill in less time than inmate Ethan Lockhart was granted to attend his sister's funeral and shine a light on her murderer. 48 Hours to Kill has everything I love in a crime novel—tough choices, questionable decisions, gritty realism and a rogue protagonist to root for. My type of book!"
—Steph Post, author of Miraculum and Lightwood
Crooked Lane Books, 9781643858401, 352pp.
Publication Date: December 7, 2021
About the Author
Andrew Bourelle is the author of the novel Heavy Metal and coauthor with James Patterson of Texas Ranger and Texas Outlaw. His short stories have been published widely in literary magazines and fiction anthologies. He is an associate professor of English at the University of New Mexico.