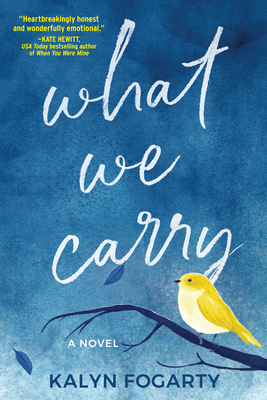 What We Carry
A Novel
Paperback

* Individual store prices may vary.
Other Editions of This Title:
MP3 CD (9/14/2021)
Compact Disc (9/14/2021)
Description
WINNER OF THE 2021 AMERICAN BOOK FEST BEST BOOK AWARD

Fans of Caroline Leavitt will relish this rich, complex novel born of the author's own loss and grief, about how one can overcome tragedy through bravery and self-discovery.

Cassidy Morgan's life has always followed a carefully laid track: top education, fulfilling career, and marriage to the love of her life, Owen. The next logical step was starting a family. But when a late-term miscarriage threatens to derail everything she's worked so hard for, she finds herself questioning her identity, particularly what it means to be a mother. Unable to move past her guilt and shame, she realizes there's more to fix than a broken heart. Grief illuminates the weaknesses in her marriage and forces her to deal with her tumultuous relationship with her own mother.

Cassidy hopes her work as a veterinarian specializing in equine reproduction will distract her from the pain but instead finds that one of the cases she's working on shines a spotlight on the memory of her unborn son. For once in her life, Cassidy is left untethered and wondering why she wanted to become a mother in the first place.

Then the unexpected happens when Cassidy becomes pregnant again. But the joy over her baby is tempered by her fear of another loss as well as her increasingly troubled marriage. Now, she must decide whether to let her pain hold her back or trust that there's still something to live for.

What We Carry is a thought-provoking response to the author's own miscarriage and lack of fiction surrounding the topic, that she and other women in her situation crave.
Praise For What We Carry: A Novel…
Praise for What We Carry:
"Layers of insightful, beautifully rendered prose and absorbing monologues shine a light through a multi-faceted prism of loss and grief that ultimately reflects the hopeful beauty of learning how to start over."
—Shelf Awareness

"Heartbreakingly honest and wonderfully emotional, What We Carry is a poignant and heartfelt novel of learning--and loving--through loss, filled with characters you long to root for."
—Kate Hewitt, USA Today bestselling author of When You Were Mine

"In a tender story about one woman's anguished choices in her determination to become a mother, Kalyn Fogarty takes an unsparing look at the raw courage it sometimes requires to do those things most people take for granted. Fogarty understands human nature and the ways in which compassion for another species — in this case, horses — can teach us the truest understanding of ourselves."
—Jacquelyn Mitchard, author The Deep End of the Ocean

"What We Carry takes readers on a journey from to the depths of despair and back again in a moving tribute to motherhood. The family dynamics between Cassidy, Claire, and Joan are gripping. Their story of functional dysfunction will keep you turning pages to find out what happens next."
—Jennifer Bardsley, author of Sweet Bliss

"Few losses are as shattering as the death of a child, but when that loss occurs as a miscarriage, parents often find themselves isolated in their grief. This fresh, unflinchingly honest story depicts the chronic ache of grief, the challenge of self-forgiveness, and ultimately, the achievement of a new sense of balance. With fully drawn characters that will live in your heart long after the last page, this moving portrait is not to be missed."
—Rebecca Hodge, author of Wildland

"What We Carry is an emotionally charged roller-coaster ride. A powerful and engrossing read. We need more books like this in the world. Kalyn Fogarty tackles the topic of miscarriage—an experience which is too common, and yet not talked about enough. Clearly borne of the author's own pain and wisdom brought from the experience, Fogarty delves into how it feels to lose a child and the impact on all of Cassidy's relationships. Studded with beautiful and thought-provoking lines like "no-one gives you a manual for grief." And "I never imagined ten years unraveling in ten days", Fogarty is a new author with a clear voice. Poignant, thought-provoking. Perfect book club fiction, with so much to discuss. Filled with nuggets of wisdom about grief, love and life in general."
—Lainey Cameron, award-winning author of The Exit Strategy

"Kalyn's hauntingly beautiful novel What We Carry perfectly captures the emotional heartbreak of miscarriage and, indeed, loss at any stage of pregnancy. Her characters remind us that even in the wake of an unthinkable tragedy, love and hope are worth fighting for. This is a powerful story that will shed light on an often misunderstood topic and move readers in countless, untold ways!"
—Monica Novak, author of The Good Grief Club
Alcove Press, 9781643858470, 336pp.
Publication Date: August 10, 2021
About the Author
Kalyn Fogarty grew up on a horse farm in rural Massachusetts. When she's not writing, she's riding and training horses at Artemis Training and Sales, a showjumping farm in New York. She lives on the south shore of Long Island with her husband, two young daughters, and German Shepherd rescue, Layla.
or
Not Currently Available for Direct Purchase