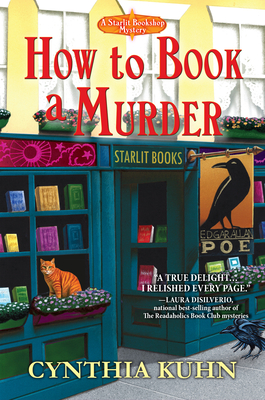 How to Book a Murder (A Starlit Bookshop Mystery)
Hardcover

* Individual store prices may vary.
Other Editions of This Title:
Digital Audiobook (12/6/2021)
Paperback (4/4/2023)
Compact Disc (1/4/2022)
Description
Perfect for fans of Jenn McKinlay and Kate Carlisle, in Agatha award-winning author Cynthia Kuhn's series debut, small-town bookseller and literary event planner Emma Starrs is out to close the book on a killer intent on crashing the party.

To help save her family's floundering Colorado bookstore, Starlit Bookshop, newly minted Ph.D. Emma Starrs agrees to plan a mystery-themed dinner party for her wealthy, well-connected high school classmate Tabitha Baxter. It's a delightful evening of cocktails and conjecture until Tabitha's husband, Tip—hosting the affair in the guise of Edgar Allan Poe's detective C. Auguste Dupin—winds up murdered.

In a heartbeat, Emma and her aunt Nora, a famous mystery writer, become suspects. Emma is sure the party's over for Starlit events, until celebrated author Calliope Nightfall, whose gothic sensibilities are intrigued by the circumstances, implores the bookseller to create a Poe-themed launch event for her latest tome. Throwing a bash to die for while searching for additional clues is already enough to drive Emma stark raven mad, but another shocking crime soon reveals that Silvercrest has not yet reached the final chapter of the puzzling case.

Someone in this charming artistic community has murder on the mind, and if Emma cannot outwit the killer, she and her beloved aunt will land behind bars, to walk free nevermore.

Praise For How to Book a Murder (A Starlit Bookshop Mystery)…
Praise for How to Book A Murder:
"Cozy fans will look forward to seeing more of the Starrs sisters."
—Publishers Weekly

"A nice mix of interpersonal relations."
 —Kirkus Reviews

"Sympathetic characters, a close-knit family, [and] the charming small-town bookstore atmosphere . . . distinguish this series debut."
—Booklist

"[For] fans of mysteries with a bookstore or academic focus."
—Library Journal

"An especially and unreservedly recommended addition to community library Contemporary Mystery/Suspense collections."
—Midwest Book Review

"Kuhn's new Starlit Bookshop series is a true delight! With her trademark humor, engaging characters, twisty plotting, and literary references sure to charm mystery fans, she has created the bookstore we all want to browse in and the event planner/amateur sleuth, Emma, we want to join our book club. I relished every page of How to Book a Murder."
 —Laura DiSilverio, national best-selling and award-winning author of The Readaholics Book Club mysteries

"Starlit bookshop is absolutely perfect - except for murder that is. Cynthia Kuhn has created a bookstore we'd all love to visit, owned by the irresistible Emma Starrs and her family, visited by a range of eccentric, and bestselling, authors at events designed to excite the imagination of the staunchest book lover. All that plus the perfectly named store cat, Anne Shirley.  If I can't visit Starlit Bookshop in real life, I'll have to satisfy myself with visiting between the pages, and this book is so beautifully written and so full of love for books and their authors and readers , I can do that."
—Vicki Delany, national bestselling author of the Sherlock Holmes Bookshop mysteries

"Kuhn's new Starlit Book series sparkles with friendship, community and adventure. A gifted storyteller, Kuhn has created a delightful cast of quirky characters and a bookstore full of charm as a backdrop to an intriguing murder mystery. Emma Starrs, an event planner who didn't plan for murder, must solve this case to clear her and her aunt's names. We have an engaging new sleuth in the cozy genre!"
—Kathy Aarons, national bestselling author of the Chocolate Covered Mysteries

"How to Book a Murder is an unbeatable combination of Golden Age styling and modern-day intrigue, woven through with wit and keen observation. After only a few pages, you'll long to jettison the real world for life with Emma Starrs, Starlit Books, and the charming town of Silvercrest—I know I did!"
–Angela M. Sanders, author of the Witch Way Librarian and Joanna Hayworth Vintage Clothing mysteries

"There are few things I look forward to more than reading a new Cynthia Kuhn mystery and How to Book a Murder does not disappoint! Smart, suspenseful, and brimming with intrigue, Kuhn crafts the perfect page-turner in a town and bookshop so thoroughly crafted and real. I can't wait to read the next mystery starring sleuth Emma Starrs."
—Maggie Barbieri, author of the Murder 101 series

"Cynthia Kuhn's academic background and mystery genre knowledge bring the perfect touch of reality to newly minted Ph.D. Emma Starr's efforts to save the family bookstore. Kuhn's How to Book a Murder is a fast-paced delightful read."
—Debra Goldstein, author of the Sarah Blair Mystery series

"With its intelligent sleuth, bookish setting, and twisty plot, How to Book a Murder is a booklover's dream come true! Readers will love spending time with Emma and her family in the Starlit Bookshop, a charming store devoted to all things literary. Finally, a mystery series that celebrates books as much as you do!"
—Mary Angela, author of the Happy Camper cozy mystery series and the Professor Prather academic mystery series






Crooked Lane Books, 9781643858593, 336pp.
Publication Date: December 7, 2021
About the Author
Cynthia Kuhn is an English professor and author of the Starlit Bookshop Mysteries and the Lila Maclean Academic Mysteries. Her work has also appeared in Mystery Most Edible, McSweeney's Quarterly Concern, Copper Nickel, Prick of the Spindle, Mama PhD, and other publications. Honors include an Agatha Award, a William F. Deeck-Malice Domestic Grant, and Lefty Award nominations. Originally from upstate New York, she lives in Colorado with her family. For more information, please visit cynthiakuhn.net.