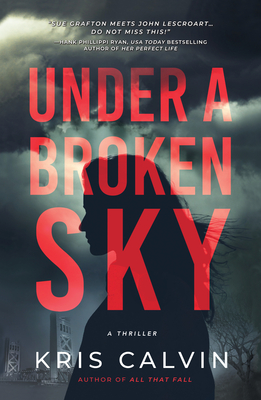 Under a Broken Sky
A Novel
Hardcover

* Individual store prices may vary.
Description
In this Sacramento-set thriller perfect for fans of Meg Gardiner, Emma Lawson uncovers greed and deception for a living, but this time is different. If only she knew this killer can hear her.

He can see her.

One year into her prized role as the youngest ethics investigator in California's history, Emma suspects corruption in the state's billion dollar expansion to train travel. That unwittingly puts her on a killer's trail - a killer who will do anything to reach his illicit million dollar payday, including personally eliminating Emma Lawson as a threat.

Detective Alibi Morning Sun sees connections where no one else does. For him, a drowning at a lake, a fire in a storage facility and a murder by the river carry a thread soaked in blood.

As Emma follows the money and Alibi traces bullets and bodies, the killer counts down to his grand finale. With each mounting danger, it quickly becomes apparent that the corruption Emma has been digging for is real— and it's deadly.

Three days. Two days. Now only one…
Praise For Under a Broken Sky: A Novel…
Praise for Under a Broken Sky:
"Riveting and sophisticated, Under A Broken Sky is a wonderfully complex and surprising page-turner. Sue Grafton meets John Lescroart when a determined and honorable investigator must risk everything in search of her past and in search of justice. Do not miss this!"
—Hank Phillippi Ryan, USA Today bestselling author of Her Perfect Life

"Calvin crafts an intricate, torn-from-the-headlines mystery with a rich cast of fascinating, devious, and wryly-observed suspects. A high-stakes suspense thriller!" 
—Mark Wheaton, critically-acclaimed author of Emily, Eternal

"I just finished Kris Calvin's Under A Broken Sky. I loved it. Calvin's voice is strong and unique, making it easy to get lost in the story; I'd be reading and suddenly realize hours had passed. I did not like that it ended—that's my only complaint. An outstanding addition to a powerful and entertaining thriller series."
—Tamsen Schultz, award-winning author of the Windsor and Tildas Island series

"In Under a Broken Sky, Calvin deftly weaves together threads of several intriguing mysteries to create a rich, complex tapestry of corruption, betrayals and lies. Just as compelling are the believable, three-dimensional characters and the way their lives collide and intertwine.This suspenseful, emotional page-turner should shoot to the top of everyone's must-read list!"
—Brianna Labuskes, best-selling author of A Familiar Sight

"Kris Calvin's Under a Broken Sky gives you a father-daughter relationship, fraught with complication, that sticks with you long after you've finished the last page. Abandonment. Acceptance. Forgiveness. Heady concepts to weave into a crime novel, but Calvin does it like a champ. Oh, and there's murder and stuff, too, and also what has to be the all-time best character name ever – Alibi Morning Sun. What a fun read. More, please!"
—Tracy Clark, author of the Cass Raines Chicago Mystery Series, and winner of the 2020 Sue Grafton Memorial Award

"In Kris Calvin's Under a Broken Sky, there are secrets people will kill to keep and secrets that will change people's lives—especially ethics investigator Emma Lawson's. Emma follows the money and veteran detective Alibi Morning Sun follows the bodies as they drop. Shrewdly plotted with compelling characters, Calvin has crafted a chilling page-turner, one you'll be reading late into the night." 
—James L'Etoile, author of Black Label, Dead Drop, and the Detective Penley series

"With Under A Broken Sky Kris Calvin delivers another intriguing mystery, filled with compelling characters and a story that proves all politics is local and all murders are personal."
—Eric Beetner, author of All The Way Down

Praise for All That Fall:
"A rich and detailed story."
—Kirkus Reviews

"A compulsive page turner of a story."
—Midwest Book Review

"An intriguing and suspenseful story of corruption and murder that grips readers from the outset and holds their attention throughout."
—City Book Review

"A sizzling thriller chock-full of suspense and intrigue." 
—Robert Dugoni, bestselling author of The Tracy Crosswhite series

"Suspenseful, complex, and engaging."
—Meg Gardiner, author of the UNSUB series

"Tightly plotted and emotionally resonant, Kris Calvin's All That Fall will have you on the edge of your seat in this race against time and evil."
—R. H. Herron, bestselling author of Stolen Things

"Everything I look for in a thriller."
—Jess Lourey, bestselling author of Unspeakable Things

"A surety of language, complex yet inhabitable characters, and an intensifying plot."
—Spring Warren, bestselling and award-winning author of Turpentine

"I've always loved the ease with which Kris Calvin writes."
—Kirk Russell, bestselling author of the Paul Grale thriller series

"A race-against-the-clock plot and a set of richly drawn characters."
—Catriona McPherson, bestselling author of Strangers at the Gate

"Clear your schedule because All That Fall will keep you reading."
—Lisa Preston, bestselling author of The Measure of the Moon

"A white-knuckled, character-driven thriller, at once twisty and full of heart." 
—Chris Holm, Anthony Award-winning author of The Killing Kind

"Taut and suspenseful yet emotionally heartfelt."
—Sara M. Chen, award winning author of Cleaning Up Finn

"An intricate, textured, thinking person's thriller."
—Matt Coyle, award-winning author of the Rick Cahill series

"Grabs you from the first page and doesn't let go until the very end."
—Tamsen Schultz, award-winning author of the Windsor Series

"Savvy and fast-paced...Standing ovation!"
—Lisa Alber, award-winning author of Kilmoon

"An engrossing read filled with richly crafted characters and an electrifying plot, torn from the headlines."
—Mark Wheaton, bestselling author of the Father Luis Chavez mysteries

"A true thriller set against a suburban backdrop that feels authentic, current, and brims with invention."
—Tom Pitts, author of American Static and Coldwater

Praise for One Murder More:
Kris Calvin sets herself apart as a writer to watch."
—John Lescroart, New York Times bestselling author

"Calvin has established herself as an accomplished and talented addition to the world of murder and suspense."
—C.J. Anaya, USA Today bestselling and multi-award winning author

"A smart, fast-paced mystery...Will keep you up reading all night." 
—Eileen Rendahl, bestselling, award-winning author of Don't Kill the Messenger
Crooked Lane Books, 9781643859040, 304pp.
Publication Date: July 12, 2022
About the Author
A multi-award-winning author, Kris Calvin was educated in forensics psychology and economics and has been honored by the California Governor's office and legislature for her leadership in child advocacy. Kris writes thrilling and suspenseful mystery/crime fiction stories for adults, in which no harm comes to children. A single mom, Kris and her kids are faithful SF Giants and Warriors sports fans, but their favorite place is the public library.