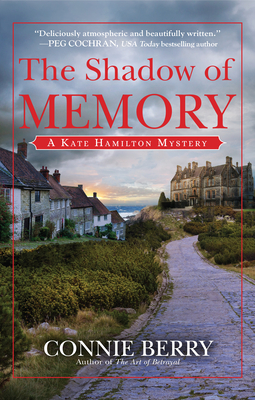 The Shadow of Memory (A Kate Hamilton Mystery #4)
Hardcover

* Individual store prices may vary.
Description
In Connie Berry's fourth Kate Hamilton mystery, American antiques dealer Kate Hamilton uncovers a dark secret buried in Victorian England.


As Kate Hamilton plans her upcoming wedding to Detective Inspector Tom Mallory, she is also assisting her colleague Ivor Tweedy with a project at the Netherfield Sanatorium, which is being converted into luxury townhouses. Kate and Ivor must appraise a fifteenth-century painting and verify that its provenance is the Dutch master Jan Van Eyck. But when retired criminal inspector Will Parker is found dead, Kate learns that the halls of the sanatorium housed much more than priceless art.

Kate is surprised to learn that Will had been the first boyfriend of her friend Vivian Bunn, who hasn't seen him in fifty-eight years. At a seaside holiday camp over sixty years ago, Will, Vivian, and three other teens broke into an abandoned house where a doctor and his wife had died under bizarre circumstances two years earlier. Now, when a second member of the childhood gang dies unexpectedly—and then a third—it becomes clear that the teens had discovered more in the house than they had realized.

Had Will returned to warn his old love? When Kate makes a shocking connection between a sixty-year-old murder and the long-buried secrets of the sanatorium, she suddenly understands that time is running out for Vivian—and anyone connected to her.

Praise For The Shadow of Memory (A Kate Hamilton Mystery #4)…
Praise for The Art of Betrayal:
"[A] traditional mystery that combines British legend with a contemporary story of crime and betrayal."
—Library Journal, starred review

"A delight for lovers of antiques and complicated mysteries with a touch of romance."
—Kirkus Reviews

"An engaging cast of characters that will appeal to fans of Jane K. Cleland's Josie Prescott novels and Barbara Allan's Trash 'n' Treasures mysteries."
—Booklist

"A magnificent book in the finest tradition of English countryside mysteries."
—Gumshoe Review

Praise for A Legacy of Murder:
"This cozy has it all: well-developed characters, clever dialogue, [and] a gentle love story that never slows the mystery plot...Readers will eagerly await the next installment."
—Publishers Weekly

"Historic settings, antiquing tips, and a surprising motive in an angst-filled mystery/romance."
—Kirkus Reviews

"A well-realized cast and a beautifully described setting."
—Booklist

"Fans of Jane K. Cleland's books . . . will want to try this series."
—Library Journal

"A veritable treasure."
—Midwest Book Review

"A delightful mystery about the secrets of the past, closure, strong friendships, and finding answers."
—Tulsa Book Review

"Berry takes her protagonist down the path to discovery...A very satisfying ending."
—New York Journal of Books

Praise for A Dream of Death:
"A well-written, intriguing debut mystery that combines history, an unforgettable setting, and mature, relatable characters."
—Library Journal, starred review, Debut of the Month
 
"Suspenseful [and] elegantly written."
—Publishers Weekly
 
"Nicely drawn characters with realistic backstories, a romantic historical subplot, and a modern-day flirtation."
—Booklist
 
"An exciting one, with tense and tough moments, aided by its rugged Scottish setting and the author's entertaining unraveling of the plot."
—New York Journal of Books
 
"A deftly crafted mystery by a master of the genre."
—Midwest Book Review
 
"Delightfully steeped in the flavors of Scotland past and present . . . A Dream of Death grabbed my attention from the start and didn't let up."
—Bailey Cates, New York Times bestselling author

"Deliciously atmospheric and beautifully written."
—Peg Cochran, USA Today bestselling author

"What a treat! A modern day Outlander."
—Hank Phillippi Ryan, USA Today bestselling author

"A Scottish delight that will keep you on your toes until the very end."
—Carlene O'Connor, USA Today bestselling author

"As satisfying as a full Scottish breakfast, entertaining as a highland fling, and mysterious as the Loch Ness monster."
—Sherry Harris, Agatha Award-nominated author

"Masterfully plotted with compelling characters and a setting rich in history, A Dream of Death is, in a word, beautiful. An absolutely stunning debut."
—Gretchen Archer, bestselling author

"An unforgettable, heart-pounding mystery in the windswept Scottish Isles."
—Duffy Brown, national bestselling author

"Berry's debut novel has it all—atmosphere, suspense, a cracking-good mystery, and characters I want to meet again soon."
—Molly MacRae, national bestselling author

"Riveting . . . I couldn't put it down."
—Hannah Reed, national bestselling author
 
"I was caught from the first page."
—Fran Stewart, award-winning author

"A dazzling debut that's beautifully crafted and thoroughly enjoyable."
—Jane Cleland, award-winning author

"Readers won't be able to stop turning pages until they reach the novel's very satisfying conclusion."  
—Kaitlyn Dunnett, author of the Liss MacCrimmon mysteries
Crooked Lane Books, 9781643859088
Publication Date: May 10, 2022
About the Author
Connie Berry is the author of the Kate Hamilton Mysteries, set in the UK and featuring an American antiques dealer with a gift for solving crimes. Like her protagonist, Connie was raised by antiques dealers who instilled in her a passion for history, fine art, and travel. During college she studied at the University of Freiburg in Germany and St. Clare's College, Oxford, where she fell under the spell of the British Isles. In 2019 Connie won the IPPY Gold Medal for Mystery and was a finalist for the Agatha Award's Best Debut. She's a member of Mystery Writers of America and is on the board of the Guppies and her local Sisters in Crime chapter. Besides reading and writing mysteries, Connie loves history, foreign travel, cute animals, and all things British. She lives in Ohio with her husband and adorable Shih Tzu, Emmie. You can learn more about Connie and her books at her website www.connieberry.com.