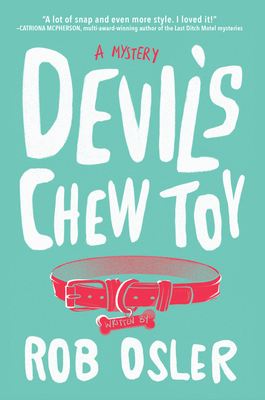 Devil's Chew Toy
A Novel
Hardcover

* Individual store prices may vary.
Other Editions of This Title:
Digital Audiobook (2/7/2022)
Compact Disc (2/22/2022)
Description
A POPSUGAR BEST MYSTERY OF 2022
A BOOKRIOT BEST MYSTERY OF 2022
A CRIMEREADS BEST MYSTERY OF 2022

Perfect for fans of T.J. Klune, Becky Abertalli, and David Levithan, this hilarious, big-hearted LGBTQ+ mystery follows an unlucky in love—and life—gay relationship blogger who teams up with a take-charge lesbian and a fiesty bull terrier to find a missing go-go boy and bring down an international crime ring.

Seattle teacher and part-time blogger Hayden McCall wakes sporting one hell of a shiner, with the police knocking at his door. It seems that his new crush, dancer Camilo Rodriguez, has gone missing and they suspect foul play. What happened the night before? And where is Camilo?

Determined to find answers, pint-sized, good-hearted Hayden seeks out two of Camilo's friends—Hollister and Burley—both lesbians and both fiercely devoted to their friend. From them, Hayden learns that Camilo is a "Dreamer" whose parents had been deported years earlier, and whose sister, Daniela, is presumed to have returned to Venezuela with them. Convinced that the cops won't take a brown boy's disappearance seriously, the girls join Hayden's hunt for Camilo.

The first clues turn up at Barkingham Palace, a pet store where Camilo had taken a part-time job. The store's owner, Della Rupert, claims ignorance, but Hayden knows something is up. And then there's Camilo's ex-boyfriend, Ryan, who's suddenly grown inexplicably wealthy. When Hayden and Hollister follow Ryan to a secure airport warehouse, they make a shocking connection between him and Della—and uncover the twisted scheme that's made both of them rich.

The trail of clues leads them to the grounds of a magnificent estate on an island in Puget Sound, where they'll finally learn the truth about Camilo's disappearance—and the fate of his family.
Praise For Devil's Chew Toy: A Novel…
Praise for Devil's Chew Toy:
"[An] appealing debut . . . Readers will hope Hayden and company will be back soon."
—Publishers Weekly

"A fresh new take on the gay mystery . . . A welcome new voice."
—Kirkus Reviews

"A light but engrossing mystery."
—Popsugar

"A rollicking romp . . . Readers will be delighted."
—Deadly Pleasures

"A skillfully crafted and impressively original suspense thriller."
—Midwest Book Review

"Charming and diverse characters—both human and canine—fill the pages of Rob Osler's delightfully humorous cozy. What fun to spend time with endearing leading man Hayden and friends on a romp through Seattle." 
—Gigi Pandian, USA Today bestselling and Agatha and Anthony-award winning author of The Accidental Alchemist series

"Take a disarming protagonist, a delightful supporting cast, and a pacy romp of a plot, add boundless warmth, humor, baked goods, and puppy love and you've got Devil's Chew Toy. Rob Osler's debut cozy—or "quozy"—brings a rainbow of characters into the cozy universe with a lot of snap and even more style. I loved it!"  
—Catriona McPherson, multi-award-winning author of the Last Ditch Motel mysteries

"Cozy, queer, so much fun!"
—Raquel V. Reyes, award-winning author of the Caribbean Kitchen Mystery series

"An out and proud crime story loaded with charm, warmth and good humor, DEVIL'S CHEW TOY introduces an engaging new voice with a fresh perspective on the sorts of stories a 21st century mystery novel can tell."
—Charles Ardai, award-winning author of Nice Guys

"This nail-biter of a book is gut-bustingly funny, endlessly entertaining, and a little bit scary. Hayden McCall – teacher by day, relationship blogger by night, crime-solver by circumstance -- is unlike any mystery protagonist you've ever met: pocket-sized, optimistic and -- even though Hayden hates being described that way -- adorable. This is one of those books that makes you wonder if the world isn't just a little bit more edgy, fun, dangerous, eccentric and exciting than you thought."
—Hart Hanson, author of The Driver, and creator and executive producer of Bones

"What a wonderful read! From the knockout opening, through every unexpected twist, to the perfect--but not too perfect—ending, Rob Osler takes us on a great ride. The engaging voice, vivid setting, and loveable and diverse cast, make for a marvelous new cozy series. I can't wait for another adventure with Hayden and his rainbow of friends!"
—Nikki Knight, author of the Vermont Radio mysteries

"Rob Osler's debut has everything cozy mystery readers will love, plus the inclusiveness of an LGBTQ main character who is charming and likable. The diverse gang of supporting characters adds comic relief to this fast-moving whodunnit."
—Elizabeth Breck, author of the Madison Kelly mysteries
Crooked Lane Books, 9781643859439, 320pp.
Publication Date: February 8, 2022
About the Author
Aside from fiction writing, Rob Osler is a halfway decent tennis player, proficient at making chicken piccata and crab cakes, and threatens to restart playing bridge and the banjo—though not at the same time. He attended college in Washington, where he also earned a master's degree in business. After many years of living in Seattle and San Francisco, he resides in southern California with his long-time partner and a tall, gray cat.