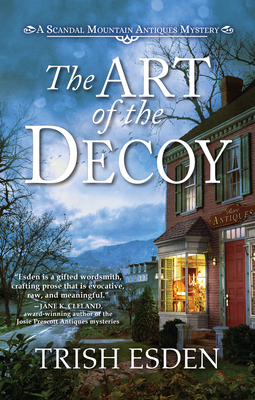 The Art of the Decoy (A Scandal Mountain Antiques Mystery)
Hardcover

* Individual store prices may vary.
Other Editions of This Title:
Digital Audiobook (4/4/2022)
Compact Disc (4/28/2022)
Description
Perfect for fans of Jane K. Cleland and Connie Berry, Tricia Esden's series debut is sure to please.

After her mother is sent to prison for art forgery, Edie Brown returns to Northern Vermont to rebuild her family's fine art and antiques business. She's certain she can do it now that her mother is gone. After all, butting heads with her mom over bad business practices was what drove Edie away three years ago, including a screwup that landed Edie on probation for selling stolen property.

When Edie scores a job appraising a waterfowl decoy collection at a hoarder's farmhouse, she's determined to take advantage of the situation to rebuild the business's tarnished reputation and dwindling coffers. In lieu of payment, Edie intends to cherry-pick an exceptional decoy carved by the client's renowned Quebecoise folk artist ancestors. Only the tables turn when the collection vanishes.

Accused of the theft, Edie's terrified that the fallout will destroy the business and land her in prison next to her mom. Desperate, she digs into the underbelly of the local antiques and art world. When Edie uncovers a possible link between the decoy theft and a deadly robbery at a Quebec museum, she longs to ask her ex-probation officer, and ex-lover, for help. But she suspects his recent interest in rekindling their romance may hide a darker motive.

With the help of her eccentric uncle Tuck and Kala, their enigmatic new employee, Edie must risk all she holds dear to expose the thieves and recover the decoys before the FBI's Art Crime Team or the ruthless thieves themselves catch up with her.

Praise For The Art of the Decoy (A Scandal Mountain Antiques Mystery)…
Praise for The Art of the Decoy:
"Captivating . . . rich historical and cultural background."
—Publishers Weekly

"Realistic and absorbing." 
—Midwest Book Review

"You're going to love spending time with antiques dealer, Edie Brown! With characters who face real and relatable issues, from Edie's conflict with her mother and uncertainty about a romance to her Uncle Tuck's desire to focus on his gardening, not a business he doesn't want to run, this complex, twisty tale of betrayal and deception is a winner! Trish Esden is a gifted wordsmith, crafting prose that is evocative, raw, and meaningful. Sit back and prepare to lose yourself in this Northern Vermont wonderland filled with priceless folk art and people you want to know."
—Jane K. Cleland, award-winning author of Jane Austen's Lost Letters, the 14th Josie Prescott Antiques Mystery

"All I can say is WOW! With this first novel in the Scandal Mountain Antiques Series, author Trish Esden has knocked it out of the park. With an evocative rural Vermont setting, an intriguing main character with a complicated past, an engaging cast of supporting characters, and a twisty plot that will keep you turning pages, The Art of the Decoy is as close to perfect as they get."
—Connie Berry, award winning author of A Dream of Death

"A well-drawn Vermont setting, a satisfyingly deep dive into the art and antiques world, and an expert and tricky mystery make this a must-read debut for Esden's clever antiques dealer Edie Brown. Bring on Edie's next adventure!"
—Sarah Stewart Taylor, Vermont author of the Maggie D'arcy mystery series

"The Art of the Decoy by Trish Esden is an exciting start to a new mystery series, featuring intriguing characters, a charming New England setting, and a fascinating deep dive into the world of antiques and folk-art. Like the valuable decoys of the title, this book is both unique and authentic, offering an intelligent and intrepid heroine who's not afraid to face danger to sleuth out the truth. Highly recommended for readers who enjoy well-developed characters, sophisticated plotting, and a bit of edginess and adventure in their mysteries."
—Victoria Gilbert, author of the Blue Ridge Library Mystery series and the Booklovers B&B mystery series

"Welcome to the world of folk art antiques, where the competition to acquire a priceless piece is so cutthroat it might just lead to murder. With its tenacious and endearing female sleuth, a mystery that captivates, and a vibrant cast of suspects, The Art of the Decoy entices from the first page. A winning start to a new mystery series that's as rare as the art Edie Brown has in her sights. I can't wait to return to Scandal Mountain."
— Tessa Wegert, author of Death in the Family and The Dead Season

"With its likable characters, high stakes mystery, and immersive setting, The Art of the Decoy is a great start to a fresh new series."
—Elizabeth Penney, author of the Cambridge Bookshop Series

"A thrilling, fast-paced mystery with memorable characters and as many twists and turns as the back-country roads of its rural Vermont setting. Highly entertaining, with the added bonus of an in-depth introduction to the fascinating world of the antique business."
—Hank Parker, author of CONTAINMENT: A Thriller
Crooked Lane Books, 9781643859644, 336pp.
Publication Date: April 5, 2022
About the Author
Trish Esden loves museums, gardens, wilderness, dogs and birds, in various order depending on the day. She lives in Northern Vermont where she deals antiques with her husband, a profession she's been involved with since her teens. Don't ask what her favorite type of antique is. She loves hunting down old bottles and rusty barn junk as much as she enjoys fine art and furnishings.