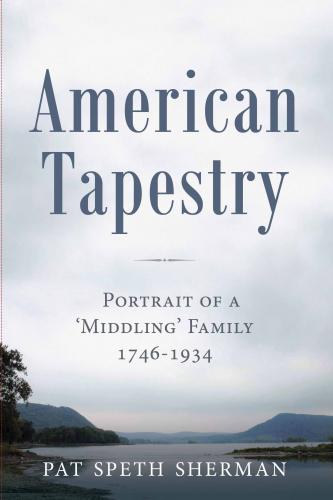 American Tapestry
Portrait of a 'Middling' Family, 1746-1934
Paperback

* Individual store prices may vary.
Other Editions of This Title:
Hardcover (9/28/2021)
Description
Unfolding in Pennsylvania, New York, Ohio, Virginia, Missouri, and Mexico, and spanning the years between 1746 and 1934, American Tapestry is a ride through American history in the company of a family of local community leaders. The family exemplifies the type of 'middling' people who served on our foundational democratic institutions. Imperfect though they were, each of the identified family members responded to the challenges of the time, challenges that embody the universal experience of the human condition.
American Tapestry also explores aspects of Native American history—with a focus on the Haudenosaunee (Iroquois) people.
Praise For American Tapestry: Portrait of a 'Middling' Family, 1746-1934…
"A rigorous, absorbing family account that offers a microcosm and a macrocosm...Sherman is a competent writer and is passionate about the downtrodden...Readers get a very thoughtful panorama of 250 years of history, change, and how this 'middling' family dealt with all of it. She is a formidable and patient researcher."
—Kirkus Reviews

Pat Speth Sherman proves herself a skilled chronicler of America's past in this account of her family's role in various epochal events...At times, Sherman's family is overshadowed by the period context she renders in careful detail. However, her writing never becomes dryly recitative, but remains vividly pictorial and even poetic throughout...Genealogy buffs will especially admire the detective work Sherman performed in excavating her family's past, but anyone interested in a fresh perspective on American history can profit from her rich work.
—Blue Ink Review

The fascinating family biography American Tapestry collects an in-depth series of historical accounts together to trace the early history of the Eastern and Central United States....Their lives are shared to reflect the progress and setbacks that the nation weathered thanks to the dedicated labor of ordinary individuals. The fact that each person in [Sherman's] story is more or less average...results in an intriguing demonstration of how the consequences of major events...manifested in places far removed from their scenes of action.
—Foreward Clarion Review

Takeaway: A confrontation with American history and one family's rise, as revealed in original research and admirable frankness about the past.
—BookLife Reviews
Luminare Press, 9781643886725, 488pp.
Publication Date: September 28, 2021
About the Author
Pat Speth Sherman, an independent scholar, grew up in Buffalo, New York. Her ancestors hail from rural central Pennsylvania. Continuing her family's centuries-long commitment to public service, she previously served as mayor of Brookings, Oregon. Pat is a graduate of University of Portland (BSN)) and Oregon State University (MBA). She lives in Oregon