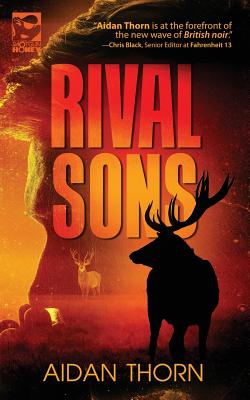 Rival Sons
Paperback

* Individual store prices may vary.
Description
When Kyle Gordon hears that his mother is terminally ill he makes the journey back to his hometown for the first time in nearly two decades, only...home isn't what it used to be. Kyle is shocked by the dilapidation that has befallen his town.

For nineteen years Kyle vowed to protect the people of his country, serving in the armed forces. On returning home he realises that there were those needing protection right on his own doorstep and it was from no foreign enemy but that of his own flesh and blood. For decades his own father, Frank Gordon, ran the small farming town through fear and crime. Now, the throne has been passed to Kyle's younger brother, Graham, a man with no moral code.

Kyle had enlisted in the army to distance himself from his father's chosen profession, and he'd not returned until now to keep his own young family from harm's way. Through returning to support his ailing mother Kyle's fears become reality--the lifelong feud between brothers is reignited and a dangerous bond is formed between his teenage daughter and her grandfather, Frank.

Praise for RIVAL SONS:

"A really strong story with great characters. Brilliant stuff. Aidan Thorn is at the forefront of the new wave of British noir." --Chris Black, Senior Editor at Fahrenheit 13

"Rival Sons is a nuanced, multi-layered homecoming tale that packs a real kick-in-the-teeth. Powerful stuff." --Tess Makovesky, author of Gravy Train and Raise the Blade

"Rival Sons is a story about evil overtaking good, how one brother can corrupt the other, and how the lineage passed to us can be more corrupt than any jailhouse snitch. In this blast of a novella, Aidan Thorn delivers--these characters know rivalry and vengeance, guts and glory, failure and worse-than-failure. They also know love and courage (well, some of them do). And like every great noir story, Rival Sons is about a few bad men eating the bullets they so deserve." --Matt Phillips, author of Know Me from Smoke and The Bad Kind of Lucky
Shotgun Honey, 9781643960043, 150pp.
Publication Date: December 14, 2018