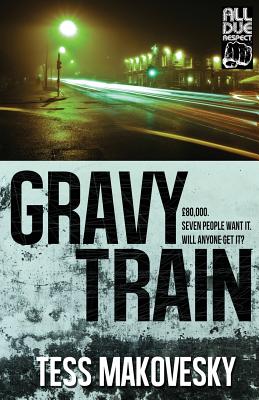 Gravy Train
Paperback

* Individual store prices may vary.
Description
Crime pays. So barmaid Sandra thinks when she overhears details of a betting scam and wins herself and fat husband Mike eighty thousand pounds. But they've reckoned without mugger Lenny, lying in wait outside the betting shop door. And he's reckoned without a top-notch car thief, his own devious boss, a fellow gang-member with a grudge, and Sandra's unpleasant almost-Uncle George.

Chaos ensues as a whole bunch of disparate--and desperate--characters chase the bag of money around Birmingham's back streets. Plenty of them help themselves to the cash, but none of them are good at hanging onto it. As they hurtle towards a frantic showdown on the banks of the local canal, will any of them see their ill-gotten gains again? Or will their precious gravy train come shuddering to a halt?

Praise for GRAVY TRAIN:

"Tess Makovesky's Gravy Train is a terrifically entertaining, raucous and rough 'n' tumble Brit Grit crime caper that will leave you breathless." --Paul D. Brazill, author of Last Year's Man, A Case of Noir, and Guns of Brixton

"Gravy Train is my kind of crime fiction. Real people, real stakes, real fun." --Jay Stringer, author of Ways to Die in Glasgow and How to Kill Friends and Implicate People

"...a dash of Snatch, a pinch of The Italian Job, a little The Long Good Friday--but all Tess Makovesky." --Jason Beech, author of Moorlands and City of Forts

"When lives collide, sometimes it's kismet--and sometimes it's crime. Makovesky weaves the threads of these lives to a tight slam-bang conclusion you won't forget." --Graham Wynd, author of Satan's Sorority and Extricate

"Gravy Train is a witty and gritty crime caper with a clever plot and lowlife characters you will love to hate. Highly entertaining." --Deborah Swift, author of The Lady's Slipper and Past Encounters

"If you love a rollicking, gritty, humorous crime caper, with a cast of disparate but entertaining characters, then Tess Makovesky's Gravy Train is a gem of Brit Grit crime fiction you won't want to miss." --Matt Hilton, author of Dead Men's Dust and Marked For Death

"Makovesky writes with a distinct voice and has a verve for language." --Graham Smith, author of Watching the Bodies and The Darling Dead
All Due Respect, 9781643960067, 248pp.
Publication Date: November 30, 2018