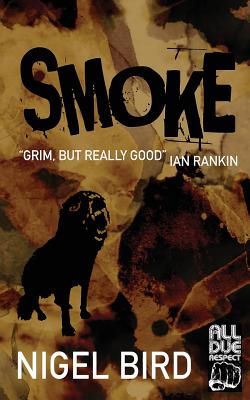 Smoke
Paperback

* Individual store prices may vary.
Description
The Ramsay brothers are keen to move up in the world and get the hell out of town. They gather all their hopes in one basket and set up the Scottish Open dog-fighting tournament. In Leo they have the animal to win it. All they need to complete the plan is a fair wind.

Carlo Salvino returns home missing an arm and a leg. He's keen to win back the affections of his teenage girlfriend and mother of his child. If he can take his revenge on the Ramsays, so much the better.

The Hooks, well they're just a maladjusted family caught up in the middle of it all.

A tale of justice, injustice and misunderstanding, Smoke draws its inspiration from characters introduced in a short story first published by Crimespree Magazine and later in The Mammoth Book of Best British Crime Stories 8.

Praise for SMOKE:

"Grim, but really good." --Ian Rankin, bestselling author of the Inspector Rebus novels

"Highly recommended."--Thomas Pluck, author of Bad Boy Boogie

"It's the real deal." --Les Edgerton, author of Adrenaline Junkie

"Smoke is reminiscent of Allan Guthrie's Savage Night in the way it cleverly interweaves different strands of the story and its great mixture of colorful characters, absurdest humor and hard-boiled crime." --Paul D Brazill, author of Last Year's Man

"The pace of Smoke is first-class and a definition of noir itself. The characters are well-rounded, the dialogue top-drawer, the ending a satisfying conclusion to a cracking tale." --Ian Ayris, author of the John Sissons thrillers

"This is a truly great piece of writing with characters that will live long in your mind." --McDroll, author of Feeling It

"Grim, brutal, never pretty but laced with enough black humor and cautious optimism to elevate it above being a bleak and hopeless read." --Col's Criminal Library

"Gritty, working-class fiction from a hell of a writer." --Matt Phillips, author of The Bad Kind of Lucky

"Horribly compulsive reading." --Kath Middleton, author of The Sundowners

"Smoke is Brit Grit at its very finest. Think in terms of Layer Cake or Snatch." --Darren Sant, author of Dark Voices
All Due Respect, 9781643960074, 132pp.
Publication Date: December 14, 2018