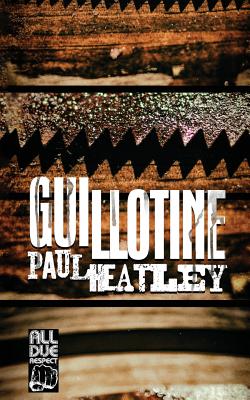 Guillotine
Paperback

* Individual store prices may vary.
Description
After suffering a lifetime of tyranny under her father's oppressive rule, when Lou-Lou sees a chance to make a break with the man she loves, she takes it. Problem is, daddy's also known as Big Bobby Joe, a dangerous and powerful man in the local area--powerful enough to put out a sixty grand bounty on the head of the man she's run off with, who also happens to be one of his ex-employees.

With every criminal affiliate out looking for them, making good on their getaway doesn't seem promising. Even their so-called friends are on the take, willing to pull a double-cross if that's what's going to turn them a quick buck. But Big Bobby Joe hasn't counted on his daughter's resolve to distance herself from him. No matter what he throws at her, no matter what he does, she's going to get away--or die trying.

Praise for GUILLOTINE:

"A missing girl, a father who wants her back, a hitman. You think you know where this story is going, but in Paul Heatley's masterful hands, Guillotine never takes the expected path. Full of crackling dialogue, characters whose actions surprise you at every turn, and an ending you'll be thinking about for days after." --Hector Acosta, author of Hardway

Praise for PAUL HEATLEY:

"Paul Heatley is one of the most compelling writers currently working in the UK." --Tom Leins, author of Repetition Kills You

"Heatley has an adept ear, and he's got the writer's chops to translate what he hears." --Matt Phillips, author of Accidental Outlaws

"Heatley has this genre down pat and few others can top his style. Step into the dark and enjoy the fun." --Grady Harp, San Francisco Review of Books
All Due Respect, 9781643960098, 152pp.
Publication Date: February 22, 2019