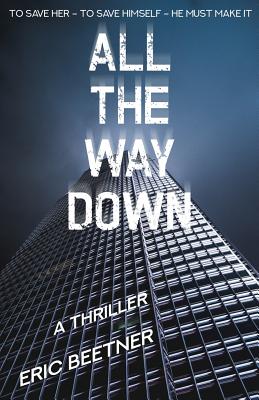 All the Way Down
Paperback

* Individual store prices may vary.
Description
Dale is a crooked cop. It started slow, but grew like a cancer and now he can't get out from under the thumb of Tat, a would-be kingpin in every vice he can turn a profit with.

And now Dale's number is up--the top brass knows. But instead of getting busted, Dale gets an offer. The mayor's daughter is being held by Tat in his fortress built from an abandoned office tower. They want her back but if they storm the gates, Lauren is as good as dead. So they're sending Dale on what could very likely be a suicide mission: infiltrate Tat's fortress and bring her out alive.

If the Mayor even really wants her alive...

Floor by floor Dale and Lauren have to fight off an increasingly difficult and dangerous set of obstacles.

Meanwhile, Dale's wife has her own troubles and some of the drug kingpin's goons are only adding to an already rough day.

The clock is ticking down along with the floors of the building and escape is looking less and less likely. But to save her, and to save himself, he must make it all the way down.

Praise for ALL THE WAY DOWN:

"Last chances, double crosses, and a cop who has to shoot his way out of a fortified skyscraper--what's not to love? All The Way Down rips. It's fast and fierce, like a guitar solo that hits all the sharpest notes." --Meg Gardiner, author of Into the Black Nowhere

"Eric Beetner's All the Way Down is everything a reader could want from an action thriller--fast, suspenseful, and the right kind of outrageous. The stakes ratchet up with each harrowing surprise for crooked cop Dale and reporter Lauren, as they work together to escape the urban fortress of the city's maniacal kingpin. If every suicide mission was this much fun, we'd all sign on." --Glen Erik Hamilton, author of the Van Shaw thrillers

"Beetner's Dale Burnett is a dirty cop trying to rescue someone from the clutches of the ruthless criminal he's been accepting money from...and fifteen floors of non-stop action follows Beetner is a master at throwing more and more trouble at his heroes, and in All the Way Down, Dale gets hit with everything imaginable. No, check that--you will not have imagined what happens on a couple of these floors. This book is an absolute blast." --Frank Zafiro, creator and editor of A Grifter's Song

"Relentless." --Rob Hart, author of the Ash McKenna series
Down & Out Books, 9781643960104, 276pp.
Publication Date: January 7, 2019