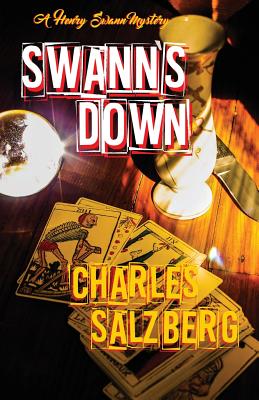 Swann's Down
Paperback

* Individual store prices may vary.
Description
When Henry Swann is asked by his quirky partner, Goldblatt, to find a missing psychic who's swindled his ex-wife out of a small fortune, he just can't say no. Although he doesn't actually expect to get paid, he figures it might give him a chance to finally learn more about his partner's mysterious past. His search takes him into the controversial, arcane world of psychics, fortunetellers, and charlatans, while raising questions in his own mind about whether or not there is an after-life.

While working his partner's case, he's approached by a former employer, attorney Paul Rudder, to track down a missing witness who might be able to provide an alibi for his client, Nicky Diamond, a notorious mob hitman who's scheduled to go on trial in a week for murder he claims he didn't commit. Swann's search for the missing witness, who happens to be the defendant's girlfriend, takes him from Brooklyn to a small beach town across the bay from Mobile, Alabama. But what does she really know and will she even come back with him to testify for her boyfriend?

Praise for SWANN'S DOWN:

"From Manhattan to Coney Island to the steamy shores of Alabama, Charles Salzberg delivers a top-flight mystery with his latest Henry Swann outing. Highly recommended." --Tom Straw, New York Times bestselling author as Richard Castle

"Psychics, double-crosses, missing persons--Charles Salzberg's latest Henry Swann book has it all. Swann's Down is a gritty, no-frills PI novel that brings to mind greats like Reed Farrel Coleman's Moe Prager and Michael Harvey's Michael Kelly. Whether this is your first Swann adventure or the latest, you won't want to miss the brass-knuckle punch that is Swann's Down. Trust me." --Alex Segura, author of Blackout and Dangerous Ends

"Swann's Down gives readers two intriguing mysteries for the price of one, as skip tracer Henry Swann pursues a woman who might alibi a murderer and a psychic who swindled the ex-wife of Swann's partner. Swann's wry wit, quotes from authors and philosophers, genius for questioning suspects, and dark past make him a character readers will follow anywhere as he seeks his quarry. This is another thrilling addition to this excellent series." --Rich Zahradnik, Shamus Award-winning author of Lights Out Summer

"Henry Swann dives in where others fear to tread in Swann's Down. Fast. Funny. And smart. This time out, Swann crosses paths with a psycho hitman, a phony psychic and Swann's mysterious partner, a disbarred lawyer. Who could ask for more? I hope we'll see a lot more of Swann in the future and that this isn't Swann's swan song." --Paul D. Marks, Shamus Award-winning author of White Heat and Broken Windows
Down & Out Books, 9781643960111, 264pp.
Publication Date: May 20, 2019