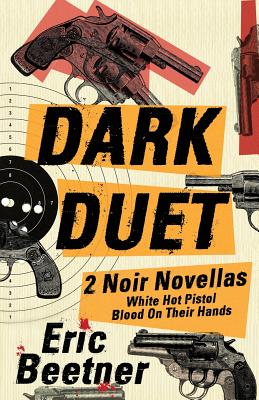 Dark Duet
Two Noir Novellas
Paperback

* Individual store prices may vary.
Description
For the first time in print two novellas in the pulp paperback tradition of fast and no-punches-pulled noir.

In White Hot Pistol Jacy needs to get out of town and away from her stepfather, Brian. The only one she can turn to is her estranged brother, Nash. But getting away won't be easy. Throw in a bag of cash, dark family secrets and a town cop who doesn't want them to leave--who also happens to be the very man they're trying to escape--and you've got a pulpy ride down the dark alleys of Noir. First time in paperback.

In Blood on Their Hands Garret and his friends get more than they bargained for with a teenage prank gone wrong. Now killers are after them and the one man who could help them can never know. Friendships will be tested and these young men will see what they're really made of and if they'll even make it out of their teen years alive. It's a violent coming-of-age story and pulp fiction at its action-packed best. Never before published.

Praise for Eric Beetner:

"If Beetner had been around in the 1950s, he could've had a nice career writing for Gold Medal or Dell First Editions, and that's a high compliment from me." --Bill Crider, author of the Sheriff Dan Rhodes series

"Eric Beetner is the standard by which all current hardboiled and noir writers should be judged." --Paul Bishop, author of Lie Catchers

"Beetner is an old school talent, a crime writer's crime writer like Gil Brewer (although, in my humble opinion, he's better than Brewer), who writes stuff that is fast and funny and dark all at once." --Jake Hinkson, author of Hell on Church St. and No Tomorrow

"Few contemporary writers do justice to the noir tradition the way Eric Beetner does. Others try to emulate and mimic; Beetner just takes the form and cuts his own jagged, raw and utterly readable path." --Gar Anthony Haywood, author of Assume Nothing, Cemetery Road and the Aaron Gunner series
Down & Out Books, 9781643960258, 224pp.
Publication Date: July 8, 2019