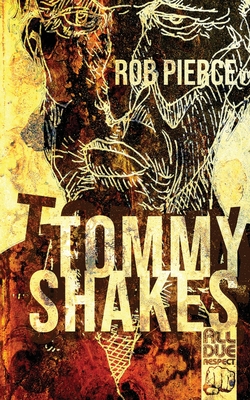 Tommy Shakes
Paperback

* Individual store prices may vary.
Description
Tommy Shakes is a career criminal, and not a very good one. He earned his name as a heroin addict. Now he's just a drunk, drinking so much that he spends much of his time in bathrooms, exploding from one end or the other.

He's in a marriage he wants to salvage. He convinces himself that his wife will stay with him if he can bring home enough money. She tells him that won't do it, but Tommy gets a crack at a big heist and decides to pull the job.

The job is ripping off a popular restaurant that runs an illegal sports book in back. When it turns out that one of the security guys works for a local gangster, Joey Lee, Tommy figures there's enough money that it's worth the risk.

They pull the robbery but one member of Tommy's crew gets gun happy and it turns into a bloodbath, which includes killing Lee's man. Now they're wanted for murder, and the law is the least of their problems.

Praise for TOMMY SHAKES:

"With his pitch-perfect ear for dialogue, his knack for crisp pacing, and his unerring eye for what might be called the milieu of functional dissolution, Rob Pierce has revealed himself in story after story as a poet of the luckless, the bard of the misbegotten. In the hero of his latest and best, Tommy Shakes, he has found his Frankie Machine." --David Corbett, award-winning author of The Long-Lost Love Letters of Doc Holliday

"Tight as a drum, vicious as a pitbull. I don't remember the last time I read something that scratched the scuzzy itch of noir as well as Tommy Shakes. Just, maybe don't read it with a full stomach." --Rob Hart, author of the Ash McKenna series

"When you pick up Tommy Shakes, make sure you have nothing to do, because you're not going to want to put this one down. Rob Pierce at the tip-top of his game. Watch out, y'all." --Eryk Pruitt, author of What We Reckon

"When I was in rehab, a psyche ward in Boston, I read the book Crime Novels: American Noir of the '50s. Willeford, Goodis, Thompson, Highsmith, and Himes. Had it all. Wretchedness, duplicity, alcoholism, and hopelessness. Tommy Shakes by Rob Pierce would've slotted in there perfectly. Nobody does grim and grave better." --Joe Clifford, author of Junkie Love and the Jay Porter Thriller Series

"Rob Pierce writes the downtrodden like Rodin casts bronze, and Tommy Shakes is his masterpiece." --Benjamin Whitmer, author of Cry Father and Pike

"If you like the kind of noir that makes you want to break out the hand sanitizer, Rob Pierce is the King--and the King does not disappoint with Tommy Shakes. Hard and mean and in your face like noir ought to be." --Todd Robinson, author of The Hard Bounce and Rough Trade

"Pure noir prose. Dark, disturbing, devastating. A journey through Pierce's Oakland is a hellish thrill-ride. Or thrilling hell-ride." --Tom Pitts, author of 101 and American Static

"Tommy can't get a break, but it's not like he's out to give himself one. This book is as relentless as it is bleak, yet oddly inspiring. You won't just root for an underdog, you'll root for collapse " --Nick Mamatas, author of I Am Sabbath and Providence
All Due Respect, 9781643960340, 244pp.
Publication Date: September 27, 2019