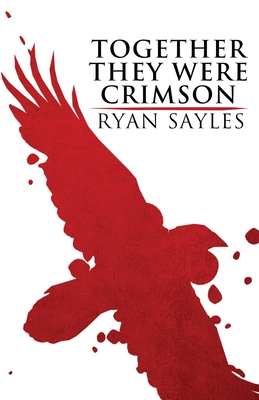 Together They Were Crimson
Paperback

* Individual store prices may vary.
Description
She is unstoppable. She murders the elderly, seeing it as compassion against their suffering. The police can't curb her ritualized, angel of mercy rampage and as every new victim falls, the distance between them and her increases. Then the killer is caught in the act by the young, pregnant wife of Norm Braden. There is no option but to murder her too. As a widowed Norm struggles to return to his family, to his new normal, he is joined in grief by his wife's twin sister. But, the killer is also having a difficult time recovering from the startling break in her ritual. Killing Norm's wife has affected everything.
So, one day she visits Norm, offering an olive branch. Maybe they can help each other move past it all. Their co-dependent, cat-and-mouse game begins. Revenge is within Norm's grasp, but his religious beliefs force him to see the killer's humanity despite her horrific shortfalls. The killer, a strange and exotic woman with a singular fixation on Norm, thinks she has found more than just the solution to her problems. She's found her completion, her other half in Norm-if only she can replace the memory of his dead wife. If she can do that, she can continue murdering.
Praise for TOGETHER THEY WERE CRIMSON:
"Maybe it took me a long time to read Ryan Sayles. Too long it turns out. I'd seen the beautiful cover designs of his novels, grinned at some of the gut-punching titles like Maybe I Should Shoot You In the Face and The Subtle Art of Brutality. But now that I've read his newest hard-boiled offering, Together They Were Crimson, I can't help but tell myself, 'Holy fuck, I'm gonna read every last word this guy writes.' He's that powerful, that talented, that damned good." -Vincent Zandri, New York Times bestselling Thriller and Shamus Award winning author of The Remains and The Embalmer
"Together They Were Crimson tells the story of lives gone wrong, of lives perverted and bereft of mercy, and as only Ryan Sayles can do, ones that end in blood. Come for the prose, stay for the crimson. One step better: prepare." -Beau Johnson, author of All of Them to Burn
"Sayles rides the line of balance between a procedural and a thriller, hitting all the right notes of both songs. Tense, driven, and satisfying " -Frank Zafiro, author of the Charlie-316 series
"Completely unlike all other serial killer novels I've read before. Sympathies cross the line repeatedly and pull me in further. Comparisons will be made, but this book is one of a kind." -Jeffery Hess, author of No Salvation, Beachhead, and Tushhog
"Sayles is already notorious for writing hardboiled prose as if he were swinging a sledgehammer, but with Together They Were Crimson, we get to see another side of him, the violence is there, the tension is taut, but this time out, the story is carved into the page with the precision of a scalpel. Not to mention Sayles has given us one of the most memorable villains since Hannibal Lector. Sayles never fails to disappoint-or in this case surprise." -Brian Panowich, author of Hard Cash Valley and Bull Mountain
Down & Out Books, 9781643960371, 364pp.
Publication Date: July 20, 2020