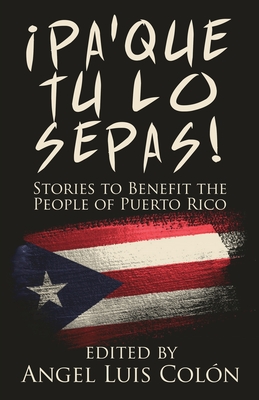 ¡Pa'Que Tu Lo Sepas!
Stories to Benefit the People of Puerto Rico
Paperback

* Individual store prices may vary.
Description
On September 20th, 2017, Hurricane Maria made landfall on the island of Puerto Rico as a Category 4--a devastatingly powerful storm that left immense suffering in its wake.

The island still hasn't recovered completely; a victim of continued neglect and the continued efforts of many to demean and frame Puerto Ricans as "other" or "lesser" even though they are citizens of the United States.

Net proceeds from Pa'Que Tu Lo Sepas will benefit The Hispanic Federation: UNIDOS Disaster Relief & Recovery Program to Support Puerto Rico, a program working to help those still affected by the disaster and ensure continued safety in the face of continued weather-related events that can and will happen again.

With a foreword by editor Angel Luis Col n and 11 stories from veteran and newcomer Latinx authors who need to be on your radar, Pa'Que Tu Lo Sepas is a loud and proud celebration of Latinx writing, joy, trauma, and most of all, love.

Contributors: Chantel Acevedo, Hector Acosta, David Bowles, Hector Duarte Jr., Carmen Jaramillo, Jessica Laine, Richie Narvaez, Christopher Novas, Cina Pelayo, Alex Segura, and D sir e Zamorano.

Praise for PA'QUE TU LO SEPAS

"While cause-related anthologies aren't unusual, what clearly separates Pa'Que Tu Lo Sepas from the pack is the diligence and care the contributors obviously put into their work, and how deftly Angel Luis Col n curated the writers and their stories. This is an important, necessary, lovely collection, one that plunges the reader into the variety of cultures and beauty within the LatinX community. Truly, Sepas is magical, and filled with magical writing. A must-read, now and always." --E.A. Aymar, author of The Unrepentant
Down & Out Books, 9781643960425, 208pp.
Publication Date: October 28, 2019