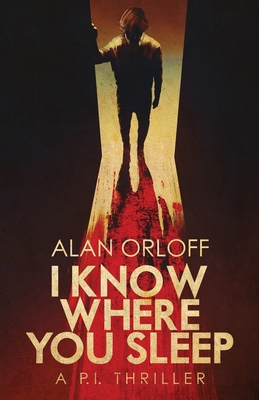 I Know Where You Sleep
Paperback

* Individual store prices may vary.
Description
When Anderson West takes on the pro-bono case of Jessica Smith, a twenty-something restaurant hostess being stalked, the last thing he expects is for his investigation to spiral into breaking and entering, assault, and legal threats from the suspects and the victim.

But that's what happens when you run a private investigation firm with your rule-breaking, loose-cannon sister at your side.

While Anderson spends his time deducing and interviewing possible suspects, Carrie handles interrogations in her own unique--and personal--fashion. And it seems like everyone is a suspect. There are Jessica's ex-boyfriend and current boyfriend, her incredibly creepy boss and the suspicious reverend at her church who definitely seems to be hiding something.

Or someone.

The closer Anderson and Carrie get to an answer, the more danger Jessica finds herself in. Her stalker's notes become increasingly more threatening, trading the scary phone calls and text messages for terrifying photographs and notes at her gym, work, and home. To make things even more complicated, Jessica's backstory begins to unravel, and the secrets of her past could potentially solve everything...if only she'd let Anderson and Carrie in.

With time ticking down, will the brother-sister investigative team be able to solve Jessica's case before she tries something foolhardy, like facing up to the tenacious bastard on her own, armed only with a handgun and a prayer?

Praise for I KNOW WHERE YOU SLEEP:

"Sleep is one thing that readers won't get much of when they pick up this stellar novel Gripping from first page to last, Orloff's I Know Where You Sleep virtually defines the psychological thriller. And Anderson and Carrie are two of the most compelling--and appealing--heroes in crime fiction to come along in years. You'll love them just as much as you'll be swept up by Orloff's brilliant plot." --Jeffery Deaver, author of The Bone Collector and The Never Game

"With clock-ticking yet compassionate prose, Alan Orloff portrays one of the horrors of all our modern lives: the stalker. I Know Where You Sleep is a private eye novel for these all-too-real modern days. Orloff's P.I. protagonist Anderson West is a man of modern personal complications and classic professional simplicity: he wants to stop evil and crime where he can--and takes readers along for the entertaining, revealing ride." --James Grady, New York Times bestselling author of Six Days of the Condor

"A winner A twisty page-turning cat and mouse pursuit with a surprise around every corner. If you're looking for a truly good guy--Anderson West is the perfect choice. This charming protagonist--a PI with heart and determination and a pure sense of justice--will captivate you. The talented Alan Orloff has created a unique and memorable character, and a terrific book." --Hank Phillippi Ryan, bestselling and award-winning author of The Murder List
Down & Out Books, 9781643960777, 336pp.
Publication Date: February 10, 2020