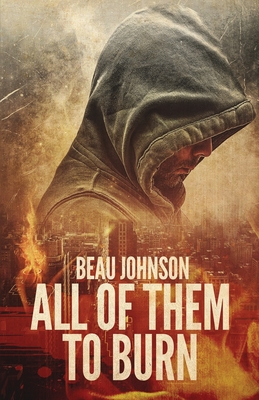 All of Them to Burn
Paperback

* Individual store prices may vary.
Description
Darkness is an attribute most of us rally against. It can consume. It can achieve. But if we so choose, it can also be held at bay. Enter Bishop Rider and the evil he's chosen to obliterate since his family is taken from him. Operating outside the law, circumventing a system beyond repair, Bishop stalks this darkness the only way he knows how. Not only because these men deserve what he's become, but because of a message he attempted to create has come back to haunt him, now, after all these years. It's this story, along with other, unconnected tales that populate All of them to Burn.

Come, meet Rider for the first time. Come, meet Rider for the last time.

Come, watch the darkness burn.

Praise for ALL OF THEM TO BURN:

"Beau Johnson has done to his fiction what street thugs do to their victims: he holds it down and beats it for all its worth. I mean that in a good way. No, in a great way. Few authors are out there stamping their words onto the page the way Beau does. He's equal parts slick, hammering, poetic and caustic. His talent is to be admired; his words are to be read." --Ryan Sayles, author of the Richard Dean Buckner mysteries

"Beau Johnson delivers another collection of masterfully written tales. Compelling and smart, these wild stories are full of twisted characters and seedy scenes. Greed. Anger. Revenge. Perhaps, justice. We are taken down a dark path, catching up with old favorites like Bishop Rider and John Batista along the way. We watch as the stories and characters connect and engage, bringing every thread together. The third in his series of connected shorts may be Beau Johnson's best, yet." --Marietta Miles, author of May and After the Storm

"All of Them to Burn is a Molotov cocktail of classic crime fiction, but one with a sharp modern twist." --Paul D. Brazill, author of Last Year's Man and A Case of Noir

"Beau Johnson's stories are hard tales of revenge and sorrow. Nothing can prepare you for the darkness in these stories and nothing can make you turn away once you start reading. All of Them to Burn is an excellent collection." --Nikki Dolson, author of All Things Violent

"These chilling short stories--many featuring the return of the mythic-like hero, Bishop Rider--drop us into the darkest depths of human suffering and ruin. Beau Johnson can spin the most brutal of tales with raw emotion, savage honesty, and fierce humor. A standout collection from a seasoned storyteller." --Sarah M. Chen, author of Cleaning Up Finn

"All of Them to Burn is fast, sharp, violent, and gory. There's something visceral at the core of Johnson's work that simultaneously reflects the best and worst of humanity, and it shines in this collection. Come for the blood and viciousness and stay for the electric dialogue and outstanding last lines. I promise it's all equally fun." --Gabino Iglesias, author of Coyote Songs
Down & Out Books, 9781643960913, 234pp.
Publication Date: February 24, 2020