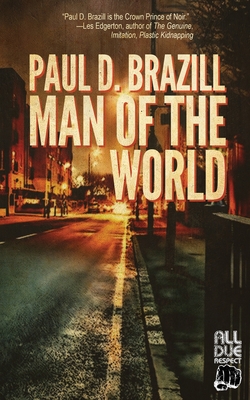 Man of the World
Paperback

* Individual store prices may vary.
Description
Ageing hit-man Tommy Bennett left London and returned to his hometown of Seatown, hoping for respite from the ghosts of the violent past that haunted him. However, things don't go to plan and trouble and violence soon follow Tommy to Seatown. Tommy is soon embroiled in Seatown's underworld and his hopes of a peaceful retirement are dashed. Tommy deliberates whether or not to leave Seatown and return to London. Or even leave Great Britain altogether. So, he heads back to London where violence and mayhem await him.

Man of the World is a violent and darkly comic slice of Brit Grit noir.

Praise for MAN OF THE WORLD:

"Hitman Tommy Bennett's first-person narration is spot on in Man of the World]. He's perceptive and fills each page with dry and often hilarious commentary, taking in everything from politics to pop music, social order and criminal disorder. Paul D Brazill excels at dialogue too. Cold fatalism is as evident in the conversation as it is in the violence. There's a strong theme here and it's one of the author's favourite topics: fading glory. Tommy Bennett, like his colleagues and counterparts, like Britain itself, is staving off the inevitable...and he knows it." --Crime Fiction Lover

Praise for the Books by Paul D. Brazill:

"If you took Ken Bruen's candor, the best of Elmore Leonard's dialogues, sprinkled in some Irvine Welsh, and dragged it all through the dirtiest ditch in South London, the result will be something akin to Brazill's writing." --Gabino Iglesias, author of Zero Saints and Gutmouth, for The Last Laugh

"A broad range of cultural strands come together in the melting pot and form a delicious stew of criminal adventure... The observations are sharp and the characters create small nuclear explosions as they collide with each other." --Nigel Bird, author of Southsiders, for The Last Laugh

"Brazill offers a series of amusing episodes filled with breezy banter in this offbeat slice of British noir." --Publishers Weekly, for Last Year's Man

"It's all here, everything you've come to expect from a Paul D. Brazill caper--the fast pace, the witty banter, the grim humour and the classic tunes--except this time he's REALLY outdone himself. Unlike the lament in the song the title takes its name from, Paul's best years are surely still ahead of him." --Paul Heatley, author of Fatboy, for Last Year's Man

"Paul D. Brazill is the Crown Prince of Noir. That's my opinion, granted, but I stand by it. For those who require proof, just pick up his latest novel, Last Year's Man, and it will be clear why I make that statement. All hail the crown prince " --Les Edgerton, author of The Genuine, Imitation, Plastic Kidnapping, Just Like That and others

"Brazill is brilliant, a unique voice which stands out from the crowd." --Keith Nixon, author of the Solomon Gray books, for Last Year's Man
All Due Respect, 9781643960999, 134pp.
Publication Date: April 17, 2020