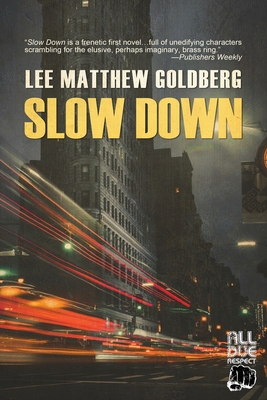 Slow Down
Paperback

* Individual store prices may vary.
Description
How far would you go to make your dreams come true?
For budding writer and filmmaker Noah Spaeth, being a Production Assistant in director Dominick Bambach's new avant-garde film isn't enough. Neither is watching Dominick have an affair with the lead actress, the gorgeous but troubled Nevie Wyeth. For Noah's dream is to get both the film and Nevie in the end, whatever the cost. And this obsession may soon become a reality once Dominick's spurned wife Isadora reveals her femme fatale nature with a seductive plot to get rid of her husband for good.
Slow Down, a cross between the noir styling of James M. Cain and the dark satire of Bret Easton Ellis, is a thrilling page-turner that holds a mirror up to a media-saturated society that is constantly searching for the fastest way to get ahead, regardless of consequences.
Praise for SLOW DOWN:
"Slow Down is a frenetic first novel...full of unedifying characters scrambling for the elusive, perhaps imaginary, brass ring." -Publishers Weekly
"Lee Matthew Goldberg writes like a young Bret Easton Ellis doing a line of uncut Denis Johnson off the back of a public urinal. Memorable in the best possible way, also mostly illegal, Goldberg's Slow Down is a mad man's tour of Manhattan's vices, follies, and ultimate betrayals." -Urban Waite, author of The Terror of Living and Sometimes the Wolf
"What would happen if one of Raymond Chandler's 1940's femme fatales were to join forces with one of Jay McInerney's enfant terribles? Lee Matthew Goldberg wrings every delectable trope imaginable out of this mashup while still managing a fresh spin. A writer to watch out for." -David Kukoff, author of Children of the Canyon
"Slow Down starts fast and gets faster quick, gunning through yellow streetlights on its way to a full collision with your shattered soul. Lee Matthew Goldberg takes on the American Zeitgeist in this stunning debut." -Stephen Jay Schwartz, LA Times bestselling author of Boulevard and Beat
"Slow Down is a brilliant rush of a work charting the rise and fall of Noah and other pretentious losers. Savor this book." -Foreword Reviews
"Dark and hard-boiled writing that grabs you by the throat. Slow Down is one of those rare novels that's so good you want it to go on forever " -Nick Pengelley, author of Ryder: An Ayesha Ryder Novel
"The plot takes off...there's no denying it's fun to watch rich snots destroy themselves." -Booklist
"Goldberg's portrayal of the New York demimonde is one of the book's strengths and brings to mind Bret Easton Ellis' Less Than Zero. He also succeeds in marshalling a complicated plot." -CrimeFictionLover.com
All Due Respect, 9781643961026, 234pp.
Publication Date: May 22, 2020