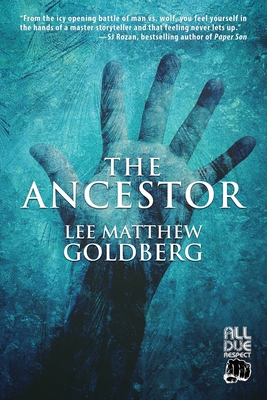 The Ancestor
Paperback

* Individual store prices may vary.
Description
A man wakes up in present-day Alaskan wilderness with no idea who he is, nothing on him save an empty journal with the date 1898 and a mirror. He sees another man hunting nearby, astounded that they look exactly alike except for his own beard. After following this other man home, he witnesses a wife and child that brings forth a rush of memories of his own wife and child, except he's certain they do not exist in modern times-but from his life in the late 1800s. After recalling his name is Wyatt, he worms his way into his doppelganger Travis Barlow's life. Memories become unearthed the more time he spends, making him believe that he'd been frozen after coming to Alaska during the Gold Rush and that Travis is his great-great grandson. Wyatt is certain gold still exists in the area and finding it with Travis will ingratiate himself to the family, especially with Travis's wife Callie, once Wyatt falls in love. This turns into a dangerous obsession affecting the Barlows and everyone in their small town, since Wyatt can't be tamed until he also discovers the meaning of why he was able to be preserved on ice for over a century. A meditation on love lost and unfulfilled dreams, The Ancestor is a thrilling page-turner in present day Alaska and a historical adventure about the perilous Gold Rush expeditions where prospectors left behind their lives for the promise of hope and a better future. The question remains whether it was all worth the sacrifice... Praise for THE ANCESTOR: "Lee Matthew Goldberg is an animal-there is no other way to say it. His prose is heavyweight ambitious, as visceral as a sweaty-toothed dog at your throat. He evokes Robert Louis Stevenson as much as he does a modern thriller novelist. And I'll be honest: I expected a crime novel, but I got a spell-binding epic, an epistolary revelation, a tale as rich as a paying gold mine. The Ancestor is more than a novel. It's an ode to the rich tradition of adventure storytelling...seasoned with ample spice of love and violence and greed." -Matt Phillips, author of Countdown and Know Me from Smoke "In The Ancestor, Lee Matthew Goldberg masterfully weaves together a story involving family and violence set against the backdrop of an unforgiving Alaska of both past and present." -Andrew Davie, author of Pavement and Ouroboros "From the icy opening battle of man vs. wolf, you feel yourself in the hands of a master storyteller and that feeling never lets up." -SJ Rozan, bestselling author of Paper Son "This thrilling novel is rich in descriptions of the vast, snowy, and deadly wilderness of Alaska; it ably captures the type of person who chases gold." -Foreword Reviews "A story that blends the familiar and the supernatural in a manner that calls Stephen King's work to mind. That said, Goldberg's book possesses a flavor all its own-a distinctive m lange of the sincere and the strange." -Kirkus Reviews "Beautifully written, and capturing the unforgiving grit of Gold Rush Alaska, Lee Matthew Goldberg's The Ancestor is a thrilling page-turner with an ache in its heart. I'm a huge fan." -Roz Nay, author of Hurry Home and Our Little Secret "A suspenseful historical thriller." -Indie Reader "One of the year's best thrillers. Blake Crouch fans will love Goldberg's Alaskan opus." -BestThrillers.
All Due Respect, 9781643961149, 348pp.
Publication Date: August 21, 2020