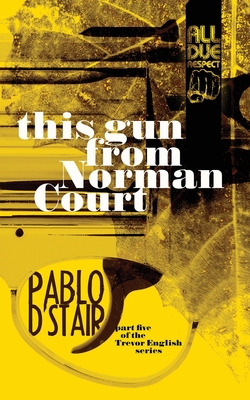 this gun from Norman Court
Paperback

* Individual store prices may vary.
Description
Skint, on the skids, reduced to life in skid-row shelters, Trevor English, petty thief and habitual blackmailer, is apprehended shoplifting by store-detective-cum-freelance-investigator Leonard Bellow. Turning a blind eye to his theft, Bellow offers Trevor a job doing shutterbug reconnaissance work-an opportunity Trevor jumps at (if already with his own ends in mind). But in the world he has cornered himself in nothing remains what it seems on the surface...except, he comes to realize, for Trevor English: deadbeat, desperate, easy mark, lamb to the slaughter. this gun from Norman Court is the final installment in Pablo D'Stair's five-novella Trevor English cycle. Praise for Pablo D'Stair: "D'Stair is clearly a master. Likely Jean Patrick Manchette reincarnated..." -Matt Phillips, author of Countdown and The Bad Kind of Lucky "Somehow again and again you're drawn in...you get used to the book's rhythm and follow it because the work is obsessive. We find ourselves in a languid kind of suspense, bracing ourselves..." -Bret Easton Ellis, author of American Psycho "Pablo D'Stair doesn't just write like a house afire, he writes like the whole city's burning, and these words he's putting on the page are the thing that can save us all." -Stephen Graham Jones, Bram Stoker Award-winner "Pablo D'Stair is defining the new writer and the new film maker]. D'Stair's late realism needs to be included in any examination of the condition of the novel." -Tony Burgess, award-winning author/screenwriter "Like Kerouac before him, I felt there was one roll of paper on which the story was typed. And there's a rhythm behind it. Not the speedy bop of jazz this time, more an urban dubstep. Shadows and edges becoming audible." -Nigel Bird, author of Smoke
All Due Respect, 9781643961194, 138pp.
Publication Date: October 23, 2020