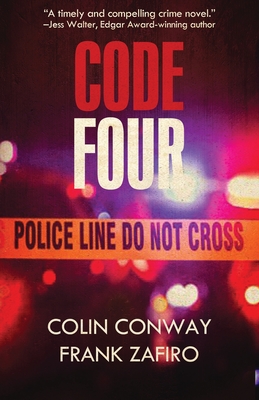 Code Four
Paperback

* Individual store prices may vary.
Description
The last two years have been tumultuous ones for the Spokane Police Department. On the surface, the agency has suffered from scandal and police officer deaths. Underneath, a secret and deadly game of cat and mouse has played out. Now the Department of Justice has sent investigators to determine if federal intervention is needed. Their presence disrupts everyone's agenda and threatens to expose dark secrets. Goals shift from winning situations to simply surviving. Not everyone will. In this tense and explosive final installment of the Tyler Garrett saga, everyone's true nature is laid bare. Garrett scrambles to maintain what he has built. Chief Baumgartner tries to protect his department. Captain Farrell's plans crumble around him, and Officer Ray Zielinski's career is at risk. Meanwhile, DOJ supervisor delie Durand diligently follows the facts where they lead. And through it all, the unflappable Detective Clint keeps his eyes firmly on the prize-Officer Tyler Garrett. Acclaim for CODE FOUR: "Frank Zafiro knows cops and he knows the streets-especially my streets. With Code Four, he and Colin Conway have written a timely and compelling crime novel." -Jess Walter, Edgar Award-winning author of Citizen Vince and The Cold Millions "For those who like their mystery/thrillers filled with plenty of action and intrigue and a realistic edge (reminiscent of Joseph Wambaugh police-procedurals), look no further than Conway and Zafiro. These two write with authority, because they actually worked the job." -Robin Burcell, New York Times bestselling author of The Last Good Place and Wrath of Poseidon "Top-notch crime fiction...a realistic tale of murder, corruption, politics, and greed. But at its heart Code Fouris a personal and brutally honest look at the men and women of law enforcement. Those who walk a razor edge between right and wrong and risk everything for justice." -Bruce Robert Coffin, award-winning author of the Detective Byron mysteries "Code Fouris a tightly written procedural laying bare the infectious reach of corruption when officers believe the ends justify the means. Loaded with authentic detail, Zafiro and Conway deliver a thrilling, and heart-pounding conclusion to the Charlie-316 series." -James L'Etoile, author of At What Cost and Bury the Past "The real deal. Emphasis on real." -Colin Campbell, author of the Jim Grant thrillers "Code Fouris a must-read in the canon of modern police procedurals. From personal vendettas to consent decrees, Conway and Zafiro don't shy from the inherent paradox to police work-that justice isn't so cut and dry as we'd like to believe. This is an authentic look at people who are cops...not cops masquerading as people." -Matt Phillips, author of Countdown "A timely and recommended read." -Brenda Chapman, author of the Stonechild and Rouleau series "Conway and Zafiro have capped their gritty police procedural Charlie-316 series the only way they could have: with booming escalation. All at once engaging, authentic and driving, they give the reader insight into the reality of cops' lives with the added extremity of the series' drama. See what comes from guys who've done the job and are now writing about the most riveting parts of it." -Ryan Sayles, author of Together They Were Crimson
Down & Out Books, 9781643961576, 422pp.
Publication Date: November 23, 2020
or
Not Currently Available for Direct Purchase