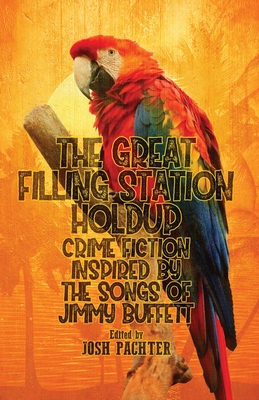 The Great Filling Station Holdup
Crime Fiction Inspired by the Songs of Jimmy Buffett
Paperback

* Individual store prices may vary.
Description
Jimmy Buffett is one of the great contemporary singer/songwriters, and it's hard to imagine a citizen of Planet Earth unfamiliar with such classic hits as "Margaritaville." Jimmy has also written novels, children's books, memoirs, and a stage musical based on Herman Wouk's Don't Stop the Carnival, and his family-friendly concerts almost always sell out to audiences comprised of a mix of dedicated Parrotheads, casual fans, and newbies. In The Great Filling Station Holdup, editor Josh Pachter presents sixteen short crime stories by sixteen popular and up-and-coming crime writers, each story based on a song from one of the twenty-nine studio albums Jimmy has released over the last half century, from Leigh Lundin's take on "Truckstop Salvation" (which appeared on Jimmy's first LP, 1970's Down to Earth) to M.E. Browning's interpretation of "Einstein Was a Surfer" (from 2013's Songs from St. Somewhere). If you love Jimmy's music or crime fiction or both, you'll love The Great Filling Station Holdup. Mix yourself a boat drink, ask Alexa to put on a buffet of Buffett tunes, kick back, and enjoy Table of Contents Introduction by Josh Pachter Down to Earth (1970)
"Truckstop Salvation" by Leigh Lundin A White Sport Coat and a Pink Crustacean (1973)
"The Great Filling Station Holdup" by Josh Pachter A1A (1974)
"A Pirate Looks at Forty" by Rick Ollerman Changes in Latitudes, Changes in Attitudes (1977)
"Tampico Trauma" by Michael Bracken Son of a Son of a Sailor (1978)
"Cheeseburger in Paradise" by Don Bruns Volcano (1979)
"Volcano" by Alison McMahan Coconut Telegraph (1981)
"Incommunicado" by Bruce Robert Coffin Somewhere Over China (1981)
"If I Could Just Get It On Paper" by Lissa Marie Redmond One Particular Harbour (1983)
"We Are the People Our Parents Warned Us About" by Elaine Viets Riddles in the Sand (1984)
"Who's the Blonde Stranger?" by Robert J. Randisi Last Mango in Paris (1985)
"Everybody's on the Run" by Laura Oles Hot Water (1988)
"Smart Woman (in a Real Short Skirt)" by Isabella Maldonado Off to See the Lizard (1989)
"The Pascagoula Run" by Jeffery Hess Don't Stop the Carnival (1998)
"Public Relations" by Neil Plakcy Beach House on the Moon (1999)
"Spending Money" by John M. Floyd Songs From St. Somewhere (2013)
"Einstein Was a Surfer" by M.E. Browning.
Down & Out Books, 9781643961811, 274pp.
Publication Date: February 22, 2021