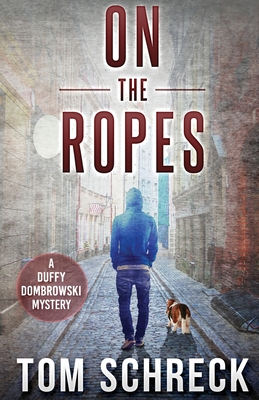 On the Ropes (Duffy Dombrowski Mystery #1)
Paperback

* Individual store prices may vary.
Description
Duffy Dombrowski is not your average social worker. When he's not counseling sex addicts and drug users in a town outside of New York City, you can find him digging Elvis tunes, getting "Schlitzed" with his quirky friends, or fighting ex-Olympians in the boxing ring. Our less-than-perfect hero occasionally uses his mean left hook on pimps and other lowlifes, too. But at least he cares about his clients.
When Walanda, a schizophrenic, crack-addicted prostitute, is murdered, Duffy pledges to take care of her basset hound and find her missing stepdaughter, Shony. He's horrified to discover the teenager is ensnared in a web porn ring-a vile enterprise that enslaves crack-addicted women and their children. On the verge of losing his job-and his life-Duffy also gets mixed up with a creepy doctor with ties to Pakistani extremists. Still, nothing will stop this conflicted Robin Hood from trying to save Shony and foil a terrorist plot. Praise for
On the Ropes
"The funniest book I have read in a long time. This is a genuine good read." -Harold Lederman, HBO Sports "Not since Carl Hiassen's
Tourist Season
debut has there been a novel with such superb comic timing and laugh-out-loud lines." -Ken Bruen, Shamus Award-winning author of
The Guards
"An Everyman with a big heart and a wicked jab, Duffy Dombrowski may well be the new Spenser. I can't wait for Round Two." -Marcus Sakey, author of
The Blade Itself
"
On the Ropes
is sly, funny, irreverent, and one hell of a good time. Read it or be sorry you didn't. It's just that simple." -Laurien Berenson, author of
Hounded to Death
"It'll put you down for the count with laughter. Tom Schreck is a contender for funniest author working in the crime genre today." -William Kent Krueger, author of
Thunder Bay
"If you've ever despised your boss or secretly wanted to save the world,
On the Ropes
is a novel you'll devour." -Steve Farhood, Showtime Boxing "Duffy Dombrowski-a loose-cannon social worker and a boxer-has a lot more heart than is healthy for a guy. Give him an orphaned sidekick who hasn't been housebroken (literally), jam them into the middle of a sinister murder plot that packs a surprising wallop, and you've got a winning combination." -Lee Charles Kelley, author of
Like a Dog With a Bone
"One of my favorite writers...Can't wait for Duffy's next adventure." -Nancy Claus,
Westchester Magazine
"It won't take long to realize Duffy doesn't run to type...occasionally over the top, but warmhearted, tough, funny Duffy makes a promising debut." -
Kirkus Reviews
"Pure delight. The sharp-edged humor peppers you like a boxing master's jab, and the poignant undercurrent of theme delivers with the power of a left hook. Duffy Dombrowski is a major new contender in the world of private eye fiction." -Michael A. Black, author of
A Killing Frost
and
A Final Judgment
"Get ready to rumble with lovable losers, misguided misfits, and a disgustingly adorable dog." -Michael "Let's Get Ready To Rumble" Buffer, the Voice of Champions
Down & Out Books, 9781643962801, 300pp.
Publication Date: March 28, 2022