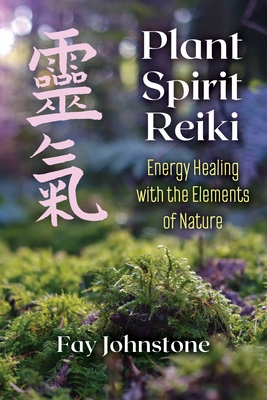 Plant Spirit Reiki
Energy Healing with the Elements of Nature
Paperback

* Individual store prices may vary.
Description
Enrich your Reiki practice by connecting with the healing spirit of plants and the natural world

• Explores a new way of channeling Reiki energy for both personal healing and professional practice by intuitively connecting with plants and the natural world

• Provides simple exercises, meditations, and Reiki practices to help the reader intuitively work in partnership with plants as part of their Reiki practice

• Emphasizes healing exchange with plants and the self-practice of Reiki in partnership with the spirit of plants to heal our essential nature

• Explains how to raise the vibration of your community and the world by connecting with green spaces, nature beings, and habitats under threat

In this practical workbook, Fay Johnstone demonstrates how energy healers and Reiki practitioners can partner with plant spirit allies and the forces of nature for powerful healing for themselves, others, and our planet. She explains how to include plants and nature in your Reiki practice, both the spiritual/etheric components of plants and the physical plants themselves. She offers many practical exercises, techniques, and meditations as well as case studies and personal experiences to show how best to harness the power of plants on all levels, along with other energy flows, to support the healing process in much the same way that crystals are used as energetic healing aids. She explains how plants connect with the Reiki principles and explores plant spirit allies, chakra work, and healing with the elements of nature. She details how to enhance self-healing and Reiki treatments for others through "bringing the outside in," creating a healing space, use of plant preparations, and other sacred forms of plant medicine.

Fay also explores how to support the healing of plants and nature itself through your Reiki/healing practice. She provides guidance on how to raise the vibration of your home and community, how to impact nature positively with regard to climate change, and how to send distance healing to the Earth, nature beings, and endangered habitats across the world. She inspires you to reach out to the vital force that flows through the natural world and open your intuition to discover guidance and support from nature. By deepening our conscious cooperation and partnership with nature and the plant kingdom, in a sacred healing way, we come to recognize that in healing ourselves, we are also healing our Earth.
Praise For Plant Spirit Reiki: Energy Healing with the Elements of Nature…
"Plant Spirit Reiki is a hands-on guide that couples the elegance and simplicity of reiki with the majesty and healing potential of the green world. Fay demonstrates how reiki can work for both personal and planetary healing when you learn to engage with plant spirits and the consciousness of the natural world. In building this relationship your practice will be forever changed for the better as you attune to the green heart of Mother Nature. Plant Spirit Reiki is a delight to read and will inspire you to expand the scope of reiki in your life."
— NICHOLAS PEARSON, author of Foundations of Reiki Ryoho

"In Plant Spirit Reiki, Fay Johnstone explores the use of plants during reiki healing treatments. She introduces us to the process of seeing, feeling, and dreaming with the plant's beings according to our own needs and particular relationship with them. Fay introduces us to these diversities of plants, seeds, landscapes, and connection with very simple and clear techniques that allow us to live our own experiences in the healing process of the mind, body, and spirit. It is a unique and remarkable book in which we can discover our path to understanding the relationship between people and plants in the healing process of ourselves and the planet."
— Rocio Alar cón, Ph.D., ethnopharmacologist, healer, and founder of IAMOE Center, Amazonia, Ecua

"What a lovely co-creative partnership Fay has forged between the energy practice of reiki and the vibrational essence of plants! This is a fresh perspective on how to work with plants that are placed within a context of the time-tested knowledge and wisdom of reiki. Fay illuminates how reiki helps us take up our rightful place as a part of nature. We discover how to step into the flow of light and love that moves through us and the natural world. You are shown how to bring plants into your reiki practice through various exercises that are found throughout this book. This unique view of working with energy is a must for anyone wanting to incorporate energy, heart, plants, intuition, and love on a personal, professional, and planetary level."
— Pam Montgomery, author of Plant Spirit Healing and Partner Earth

"Fay brings a natural fusion between her great loves of reiki and plants. She has created a weaving between them with such sweetness and a purity of spirit that brings a truth apparent through her writings
— Maureen Robertson, MSc M.NIMH ITEC (Arom), cofounder of the Herbal Path Portugal and the Scottish Sc

"This is the book that every reiki practitioner's bookshelf has surely been waiting for! Fay Johnstone presents us with an innovative and richly resourced manual for anyone looking to explore the synthesis of reiki and nature. Her ethos is deeply respectful of both Usui's source reiki teachings and the abiding spirit of plants. Devouring this book, I really appreciated the zestful, sturdy, and knowledgeable voice of a teacher who could lead me expertly into a creative practice. This is reminiscent for me of the cheerleading virtuoso of Julia Cameron in her book The Artist's Way. Plant Spirit Reiki has the potential to inspire a revolutionary and much-awaited conscious revival of the healing pathways between human and plant systems. Prepare to find your place in nature again!"
— Carol Day, founder of the Centre for Creative Vision and author of Wheel and Drum

"Plant Spirit Reiki is a joy to read. Fay writes with a very clear and confident voice, grounded in her extensive personal reiki practice and deep relationships with plants. Her ability to hear the often subtle communications from the plants and translate them into powerful, yet easy-to-follow, exercises is inspiring. You know you are in safe and experienced hands as Fay guides you on an incredible journey that promises to deepen both your reiki practice and connection to plants."
— Rachel Corby, author of Rewilding and the Art of Plant Whispering

"Connecting with plants is a lifelong journey and the author's wise guidance will place that relationship on firm footing."
— Adam Gordon, Kindred Spirit Magazine

"As a Reiki-trained selfpractitioner who has recently moved to the countryside after 50 years in the city, I was very interested to read Plant Spirit Reiki. I was hoping the book would help me to get in contact with my local environment and learn ways to get deeper into nature. I was not disappointed. In fact, Plant Spirit Reiki is fizzing with ideas to bring Reiki and plants/nature together. I think Plant Spirit Reiki is a very well-written book and would recommend it to anyone interested in bringing in spiritual ideas and practices to their love of the natural world and Reiki."
— Karon Lyne, Indie Shaman Magazine
Findhorn Press, 9781644111048, 224pp.
Publication Date: October 13, 2020
About the Author
FAY JOHNSTONE combines 20 years of reiki practice with herbal and shamanic training to assist us with our personal transformation through the healing power of nature. The author of Plants That Speak, Souls That Sing, Fay offers treatments and training on reiki and plant spirit connection across the UK. She lives near Edinburgh, Scotland.