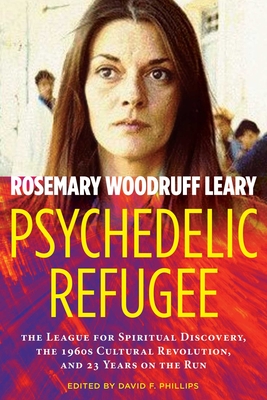 Psychedelic Refugee
The League for Spiritual Discovery, the 1960s Cultural Revolution, and 23 Years on the Run
Paperback

* Individual store prices may vary.
Description
A memoir by one of the original female psychedelic pioneers of the 1960s

• Shares Rosemary's early experimentation with psychedelics in the 1950s, her development through the psychedelic revolution of the 1960s, and her involvement, at first exciting but then heartbreaking, with Dr. Timothy Leary

• Describes her LSD trips with Leary, their time at the famous Millbrook estate, their experiences as fugitives abroad, including their captivity by the Black Panthers in Algeria, and Rosemary's years on the run after she and Timothy separated

One of the original female psychedelic pioneers, Rosemary Woodruff Leary (1935-2002) began her psychedelic journey long before her relationship with Dr. Timothy Leary. In the 1950s, she moved to New York City where she became part of the city's most advanced music, art, and literary circles and expanded her consciousness with psilocybin mushrooms and peyote. In 1964 she met two former Harvard professors who were experimenting with LSD, Timothy Leary and Ralph Metzner, who invited her to join them at the Millbrook estate in upstate New York. Once at Millbrook, Rosemary went on to become the wife--and accomplice--of the man Richard Nixon called "the most dangerous man in America."

In this intimate memoir, Rosemary describes her LSD experiences and insights, her decades as a fugitive hiding both abroad and underground in America, and her encounters with many leaders of the cultural and psychedelic milieu of the 1960s. Compiled from Rosemary's own letters and autobiographical writings archived among her papers at the New York Public Library, the memoir details Rosemary's imprisonment for contempt of court, the Millbrook raid by G. Gordon Liddy, the tours with Timothy before his own arrest and imprisonment, and their time in exile following his sensational escape from a California prison. She describes their surreal and frightening captivity by the Black Panther Party in Algeria and their experiences as fugitives in Switzerland. She recounts her adventures and fears as a fugitive on five continents after her separation from Timothy in 1971.

While most accounts of the psychedelic revolution of the 1960s have been told by men, with this memoir we can now experience these events from the perspective of a woman who was at the center of the seismic cultural changes of that time.
Praise For Psychedelic Refugee: The League for Spiritual Discovery, the 1960s Cultural Revolution, and 23 Years on the Run…
"The soul-spirit of Rosemary Woodru Leary permeates the pages of her memoir, Psychedelic Refugee. She surfed the crest of the very tides of life as a beautiful, innocent romantic, and the wake of her life journey triumphantly fed the fl owering of her true essence."
— Carolyn Mary Kleefeld, poet, artist, philanthropist, and author of The Divine Kiss

"Rosemary Woodruff Leary lived a mythical life--not merely present at many of the defining moments in 60s and 70s psychedelic counterculture but helping to create themand we are lucky enough to get to travel through these times and spaces with her in this lovingly reworked memoir. Rosemary's unerring commitment to knowing herself deeply--without taking herself too seriously--makes her a wonderful guide through these pages. I felt I had made a new friend by their close. Her principled commitment to living freely--yet never at the cost of sacrificing the freedom of others--inspires."
— Charlotte Walsh, author, lecturer, attorney, and drug policy advocate

"Rosemary Woodru Leary's memoir is a herstorical treasure and a long overdue triumph for psychedelic feminism."
— Zoe Helene, cultural activist and founder of Cosmic Sister

"It is ripe time for acknowledging the contributions of the female lineage of early psychonauts to the psychedelic countercultural currents. David F. Phillips has restored Rosemary Leary's authentic voice with great respect, diligence, and care so that it can tell us her own largerthan- life story of courage, adventures, and feminine values."
— Maria Papaspyrou, MSc, coeditor of Psychedelic Mysteries of the Feminine

"Rosemary Woodruff Leary was one of the world's great psychedelic pioneers. She worked throughout her life to educate people about the psychedelic experience and was instrumental in helping to orchestrate the cultural revolution of the Sixties. She did this at the expense of her personal freedom, which was compromised for a significant portion of her life. In a world where men often overshadow the accomplishments of women, Rosemary stands out as one of the most important psychedelic revolutionaries of our time--a brave and articulate heroine of highest integrity, sensitivity, and beaming intelligence. Interacting with many of the most influential cultural innovators of her time, she was not only at the center of all the action during the countercultural revolution of the 1960s--helping to orchestrate much of it behind the scenes--she was also an extraordinary writer, brilliantly recording her insightful observations. As a result, this book is at once an invaluable historical document and, although heartbreaking at times, a beautiful work of literature, a page-turning romance adventure story, and a spiritual inspiration. David F. Phillips did an extraordinary job at piecing this book together from numerous sources and reconstructing the memoir as Rosemary had intended it to be. Most highly recommended!"
— David Jay Brown, author of Dreaming Wide Awake

"Psychedelic Refugee covers Rosemary's intimate life with the charismatic Timothy Leary, her public life as a performer in his psychedelic roadshows, their harrowing arrests for marijuana and LSD, and her secret life as a primary player in his prison escape. She also tells the story of her years with Leary on the run in Algeria and Switzerland and her 23 years in hiding from the wrath of the American government for the act of freeing him from an unjust sentence. The Learys' associations with the Castalia Foundation, the League for Spiritual Discovery, the Brotherhood of Eternal Love, the Weather Underground, and the international Black Panther Party are described in the author's riveting firsthand account. This is the compelling untold story of an exceptional woman who was a pioneer of the psychedelic generation."
— Michael Horowitz, coeditor of Moksha: Aldous Huxley's Classic Writings on Psychedelics and the
Park Street Press, 9781644111802, 352pp.
Publication Date: March 9, 2021
About the Author
Rosemary Woodruff Leary (1935-2002) was one of the great female psychedelic pioneers of the 1960s. She met Dr. Timothy Leary in 1964, becoming his psychonaut partner at the Millbrook estate and later his wife. After Timothy's prison break in 1970, Rosemary fled with him to Algeria, beginning a years-long fugitive journey across four continents and nearly 25 years of life underground.

David F. Phillips (1944-2020) was a close friend of Rosemary Woodruff Leary for almost 20 years until her death in 2002. After careers as a lawyer and a librarian, he retired to the writer's life, running the website www.radbash.com and authoring several books on a variety of topics.