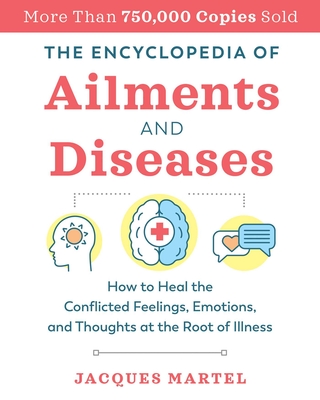 The Encyclopedia of Ailments and Diseases
How to Heal the Conflicted Feelings, Emotions, and Thoughts at the Root of Illness
Paperback

* Individual store prices may vary.
Description
A comprehensive reference and healing tool to address the emotional and psychological causes of illness

• Uncovers the conflicted conscious or unconscious feelings, thoughts, and emotions at the root of nearly 900 ailments and diseases

• Details a unique Integration and Acceptance Technique for accessing information through the heart and thereby starting the healing process for emotions and feelings

• Provides positive affirmations to effect change for each ailment and disease

What if your body used a secret language to talk to you? What if an ailment or illness was your body's way to shout for help, to make you understand that you need to change your thoughts, emotions, feelings, and behaviors? Your body wants you to become aware of the stress that you carry, conscious or not, so you can release unmanaged past and present emotions and the physical complaints that accompany them.

Compiling years of research and the results of thousands of cases he encountered in his private practice and during workshops over the past 30 years, Jacques Martel explains how to read and understand the body's language of disease and imbalance. In this encyclopedia, he shows how body language reveals specific thoughts, feelings, and emotions that are at the source of nearly 900 different ailments and diseases. The author also details his Integration and Acceptance Technique, which enables healing information to bypass the brain and connect directly with the heart. This technique disables the source of the conflict, conscious or not, that could be at the root of an illness, behavior, or condition and improves the chances of true healing.

This comprehensive manual offers a tool to help each of us become, to some extent, our own doctor or therapist, get to know ourselves better, and recover health and well-being physically, emotionally, mentally, and spiritually. For practitioners and therapists, this remarkable reference tool provides invaluable insights and prompts for healing.
Praise For The Encyclopedia of Ailments and Diseases: How to Heal the Conflicted Feelings, Emotions, and Thoughts at the Root of Illness…
"The Encyclopedia of Ailments and Diseases is not a book to read. It's a book to treasure and consult when you need guidance and support in deciphering the messages your body is trying to convey to you. All explanations are written in the first person, and the author cleverly encourages us to read in syllables, very slowly. As a result, the act of reading itself can positively affect the third chakra and the third level of the aura (the mental chakra and level). Reading becomes healing. This encyclopedia is a truly comprehensive source of information regarding psychosomatic disorders."
— TJITZE DE JONG, Brennan Healing Science practitioner and author of Energetic Cellular Healing and Ca

"I have been a therapist for 21 years and work with The Encyclopedia of Ailments and Diseases in my practice daily. I highly recommend it to my clients because it can help them relieve their physical and emotional ailments. I use the encyclopedia as a complement to the techniques I use. The information it contains is comprehensive, easy to understand, and accessible to all. It provides food for thought to help my clients make positive changes in their lives."
— RICHARD CLOUTIER, naturopath and massage therapist, Centre du Renouveau, Québec

"Global science has developed a holistic view of health as a phenomenon that supports its four parts--physical, mental, social, and spiritual. All of these parts are closely interconnected and in a harmonious unity, constantly interacting with each other. This book is a unique reference tool that reveals the emotional and psychological causes of illnesses. It indicates feelings, thoughts, and emotions at the level of the consciousness and the subconscious present in more than 900 diseases and ailments. It explains the method of heart integration and acceptance of information that initiates the process of healing, and it offers positive affirmations that transform ailments and illnesses. Medical workers can use this book in their practice and for research to help patients in their healing process."
— OLEG SHEKERA, M.D. , professor of the National Academy of Sciences of Ukraine

"I have been using this book for a few years. At the beginning, I was only consulting when needed but recently I have read it in its entirety. This book is a real bible on the subject. You will find what emotional state corresponds to each illness or discomfort in the body. A wart? Shoulder pain? There is no coincidence. These ailments always reflect an internal conflict between your body and mind. Any therapist or individual who wishes to be in tune with their body and their emotions should use this as a reference book."
— LUDIVINE STAHL, France

"I'm a firm believer in diving deep into the personal world of emotions and beliefs in order to unravel issues presenting in the physical body. This classic book provides healer wisdom for the reader to explore, which enables potentially unhelpful patterns or repressed emotions to be brought into consciousness, with love, for their resolution. Lots of food for thought and insight to help us understand the power of thought and emotion on our health and well-being. The magic, of course, arises from using this insight for our liberation."
— NIKKI GRESHAM-RECORD, author of Working with Chakras for Belief Change: The Healing InSight Method

"Comprehensively detailed, impressively 'user friendly' in organization and presentation, The Encyclopedia of Ailments and Diseases: How to Heal the Conflicted Feelings, Emotions, and Thoughts at the Root of Illness is an ideal personal health reference and instructional for the non-specialist general reader and is an excellent resource for all members of the medical community."
— Midwest Book Review
Findhorn Press, 9781644111895, 608pp.
Publication Date: December 15, 2020
About the Author
Jacques Martel is an internationally known therapist, trainer, and speaker. A pioneer in the field of personal development, he has created new methods and practical exercises that allow deep and permanent emotional and spiritual transformations. He lives in Quebec, Canada.