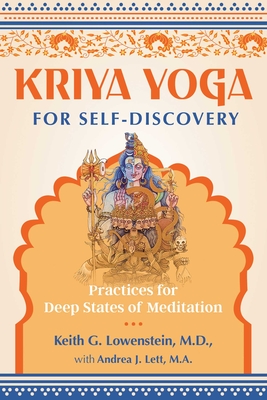 Kriya Yoga for Self-Discovery
Practices for Deep States of Meditation
Paperback

* Individual store prices may vary.
Description
A detailed guide to the breath-focused meditation practice of Kriya yoga for spiritual growth, inner stillness, and self-realization

• Explains the basic techniques of the practice, detailing proper posture, breathwork exercises (pranayama), bandhas, third-eye gazing, and the use of mantra

• Presents advanced, yet simple, techniques that accelerate a contemplative practice by micro-modulations related to posture, respiration, visualization, and sound

• Includes wisdom from the author's teacher Ganesh Baba on the importance of the spine in Kriya yoga and the Cycle of Synthesis, a model of the human experience

Kriya yoga is an ancient meditation technique that focuses on breathing and the spine to unlock deep states of awareness, self-realization, and spiritual growth. Kriya can provide a fast path to awakening, yet its practice has been shrouded in secrecy, passed only from master to initiate for millennia.

Introduced into Kriya 40 years ago, Keith Lowenstein, M.D., offers an accessible yet detailed guide to Kriya yoga. He explains the basic techniques of the practice step by step, detailing proper posture, breathwork exercises (pranayama), visualization practices, and mantra. He reveals how Kriya is a scientific art--if practiced consistently, it will allow you to quickly enter deep states of meditation and ultimately experience inner stillness. He also explores how the practice of Kriya leads to healing and the development of compassion and the freeing joy of the union of Nature and Spirit.

Sharing the wisdom of his Kriya yoga teacher Ganesh Baba, the author adds a detailed understanding of anatomy, especially the importance of the spine in Kriya yoga and energy flow. The author explores Ganesh Baba's teachings on spirit-infused science and the integration of Vedic philosophy, quantum mechanics, prana, and spiritualization illustrated in the Cycle of Synthesis. He also discusses the relationship between the exercises of Kriya yoga and Patanjali's Yoga Sutras as well as teachings from his other teachers, including Paramahansa Hariharananda.

With this guide, you will gain an understanding not only of the practice of Kriya yoga but also of the spiritual wealth it brings, including the ultimate self-realization of non-dual reality.
Praise For Kriya Yoga for Self-Discovery: Practices for Deep States of Meditation…
"Ganesh Baba's uniquely conceptualized system of Kriya and human development is effortlessly explained in this enjoyable and fascinating book. This meditation style is revealed in a complete and practical way. A must-read for beginners and seasoned meditators alike!"
— Mark Hyman, M.D., integrative physician and New York Times bestselling author

"This book is deliciously detailed, deep, and elegantly expressed. I cannot recommend it enough to anyone interested in learning Kriya yoga as a moreneeded-than-ever method for systematically expanding consciousness."
— Eve Baumohl Neuhuas, author of The Crazy Wisdom of Ganesh Baba

"Valuable step-by-step instructions for posture, breath, inner gaze, and awareness of subtle perception. Throughout this book, the author's tone rings with encouragement: be curious, trust yourself, all will be revealed."
— Yogacharya Ellen Grace O'Brian, author of The Jewel of Abundance

"In this remarkable book, Dr. Lowenstein shares with great clarity both the profoundly practical knowledge of Kriya yoga and insights he brings to this ancient wisdom through the lens of cutting-edge health science. This book is a real treasure--enjoy!"
— Jim Carson, Ph.D., and Kimberly Carson, MPH, C-IAYT, coauthors of Relax into Yoga for Chronic Pain

"Dr. Lowenstein's Kriya yoga is a gift. It represents the passage of an ancient lineage through his personal apprenticeship with Ganesh Baba into a modern science-based exegesis. In this book, he offers practitioners, from novice to advanced, unique access to an invaluable body of wisdom and practical skills."
— Chris Stauffer, M.D., assistant professor of psychiatry at the Oregon Health and Science University

"With topics ranging from a neuroscience-based discussion of Dr. Stephen Porges's Polyvagal Theory to an exploration of the impact of Kriya yoga on spiritual development, this book is a must-read for anyone in improving their physical, mental, or spiritual health."
— Donna Kirchoff, M.D., FAAP, integrative pediatrician

"This book is a beacon for those of us who have goals of solace, gratitude, and peace. Its reading is a smooth, fluid presentation of the discipline of Kriya yoga, and its lessons are stunningly beneficial to the reader."
— Donald E. Girard, M.D., professor of medicine emeritus at the Oregon Health and Science University S

"George Harrison described the sixties and seventies as a 'mini-Renaissance,' and along with its famous geniuses were a number of inspired visionaries working in relative obscurity to combine the best of Eastern wisdom with the perspective of Western science to further the evolution of the human species. And they are ready to share their stories to those seeking more meaningful lives. Keith Lowenstein is one of them."
— Scott Teitsworth, author of Krishna in the Sky with Diamonds

"At the same time an introduction to the beautiful science of Kriya yoga for an uninitiated public and a comprehensive manual for experienced practitioners, this book comes at a perfect time in our era when spiritualization is becoming a vital necessity."
— Christian Pilastre, Kriyacharya (master teacher) at Tripoura Yoga Centre

"A disciplined practice, involving breathing exercises, meditation, and posture. In chapters on Kriya yoga's lineage, practice, and scientific and spiritual effects, the authors masterfully explain it, presupposing no previous knowledge of yoga or philosophy."
— J. M. Fritzman, Ph.D., associate professor in the Department of Philosophy at Lewis & Clark College

"Dr. Lowenstein's book has many hints and instructions that can be followed with benefit. He has been a practitioner for forty years and shares his journey in a way that may help us further open ours. It is at once practical and touches deep psychospiritual wells. Something to practice and grow with."
— Michael Eigen, Ph.D., psychologist and author of The Challenge of Being Human

"This illustrated work offers a grounded and comprehensive view of Kriya yoga's history, theory, and practice, giving new expression to an ancient truth: the power of human breath and posture to affect body, mind, spirit, and heart. A very helpful and easily readable book."
— Robin Bagai, Psy.D., licensed psychologist

"Presents easy-to-understand steps to develop a Kriya practice. Although one needs patience in the gradual development of the practice, Dr. Lowenstein mentions how some results can be immediate, and I agree. This is a must-have book for every human. And remember, 'breath control is mind control.'"
— Mary K. McCarthy, M.D., past president of the Oregon Psychiatric Association

"Exceptionally well written, organized and presented, Kriya Yoga for Self-Discovery: Practices for Deep States of Meditation is an impressively informative and thoroughly 'user friendly' DIY instructional guide and manual that is highly recommended as a core addition to personal, professional, community, college and university library Yoga collections. Of immense relevance and interest for students of Hindu philosophy, sutras, rituals and practices, it should be noted that Kriya Yoga for Self-Discovery: Practices for Deep States of Meditation is also readily available in a digital book format (Kindle, $13.99)."
— Midwest Book Review
Inner Traditions, 9781644112182, 288pp.
Publication Date: May 11, 2021
About the Author
Keith G. Lowenstein, M.D., is board certified in psychiatry and integrative medicine. He began his study of the mind-body interface in 1971 with training in transcendental meditation and in 1980 began his training in Kriya yoga with Ganesh Baba. He maintains an integrative mental health private practice in Portland, Oregon.

Andrea J. Lett, M.A., is a body-mind wellness practitioner with 20 years' experience practicing and teaching meditation and yoga. An award-winning writer, she lives in Portland, Oregon.