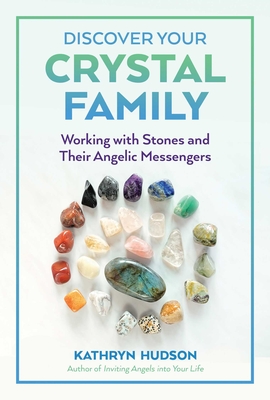 Discover Your Crystal Family
Working with Stones and Their Angelic Messengers
Paperback

* Individual store prices may vary.
Description
A full-color guide to working with crystals and their reflections in the angelic realm

• Provides exercises, meditations, and visualizations for working with crystals, including special protocols for balancing chakra energies and connecting to the Archangels for healing

• Offers guidance on how to choose or be chosen by a crystal and explains how we can consciously invite crystals into our lives

• Includes a compendium of 44 crystal allies and their angelic counterparts, explaining their uses and energies as well as their spiritual messages

Looking at the dynamics between crystals, humans, and the angelic kingdom, Kathryn Hudson explains why you might encounter crystals on your life path and shares her personal story of how a crystal gifted to her by a stranger helped her change the direction of her life. She discusses the vibrational resonance that draws us to certain crystals, especially in calling light workers into alignment with their soul purpose, and explains how crystals are energetic mirrors of the angelic realm. She shows how we can consciously invite crystals into our lives and provides a guided channel-opening exercise to create a clear connection between heaven and earth for more powerful work. She also explains how to work with crystals to protect yourself from negative energies, especially helpful for sensitives and empaths.

Kathryn discusses how to care for your crystal family, including clearing, purifying, and recharging protocols. She presents a 7-chakra crystal meditation where 7 crystals (clear quartz, amethyst, blue chalcedony, green fluorite, orange calcite, carnelian, and red jasper) help you access the energies needed to balance the chakras. She explores 15 healing crystals with connections to specific Archangels who can be invited to help you. In the final section of the book, Kathryn presents a full-color alphabetical compendium of 44 crystal allies and their angelic counterparts, illustrating each and explaining their uses, such as protection, heart-opening, love, power, or health/­healing, along with their spiritual messages.

When we take action with the crystals around us, call on the angels for help, and consciously build our crystal and angelic family, we become an agent of healing for our own heart and the hearts of those around us, as well as for the heart of the earth.
Findhorn Press, 9781644113028, 240pp.
Publication Date: October 5, 2021
About the Author
Kathryn Hudson is a certified Angel Therapy practitioner and a Reiki teacher/master who offers workshops and talks all over the world on transformation, angels, crystals, soul purpose, elementals, and MANNA initiation. Kathryn lives and teaches in France and the United States.