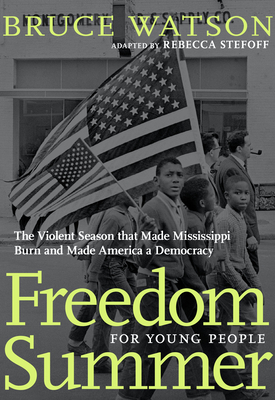 Freedom Summer For Young People
The Violent Season that Made Mississippi Burn and Made America a Democracy (For Young People Series)
Hardcover

* Individual store prices may vary.
Other Editions of This Title:
Paperback (11/10/2020)
Description
This latest edition in Triangle Square's For Young People series is a gripping account of the summer that changed America.


In the summer of 1964, as the Civil Rights movement boiled over, the Student Nonviolent Coordinating Committee (SNCC) sent more than seven hundred college students to Mississippi to help black Americans already battling for democracy, their dignity and the right to vote. The campaign was called "Freedom Summer." But on the evening after volunteers arrived, three young civil rights workers went missing, presumed victims of the Ku Klux Klan.  The disappearance focused America's attention on Mississippi. In the days and weeks that followed, volunteers and local black activists faced intimidation, threats, and violence from white people who didn't believe African Americans should have the right to vote. As the summer unfolded, volunteers were arrested or beaten.  Black churches were burned.  More Americans came to Mississippi, including doctors, clergymen, and Martin Luther King. A few frightened volunteers went home, but the rest stayed on in Mississippi, teaching in Freedom Schools, registering voters, and living with black people as equals.  Freedom Summer brought out the best and the worst in America. The story told within these pages is of everyday people fighting for freedom, a fight that continues today. Freedom Summer for Young People is a riveting account of a decisive moment in American history, sure to move and inspire readers.
Praise For Freedom Summer For Young People: The Violent Season that Made Mississippi Burn and Made America a Democracy (For Young People Series)…
*"[A] detailed, concise, well-researched account of a significant civil rights program.... An underlying sense of urgency pervades the writing as the narrative progresses, reflecting the tension building throughout the summer as an array of forces, including the Klan, the FBI, and competing political factions, came into play. A fascinating account of a pivotal civil rights initiative." —Booklist, starred review

"A searing account of the difficulties of affecting change in a state that persistently held onto racial inequality and division. ... Moving personal stories of volunteers who wanted to make a difference and found themselves changed forever round out this narrative that provides a valuable level of intimacy for readers. An in-depth look that contributes to understanding a violent painful chapter in recent history." —Kirkus Reviews

"Freedom Summer for Young People is a delightful and challenging book for young readers, filled with powerful stories of racial change and great hope. Follow these young people into Mississippi to meet incredible homegrown black activists and learn about the most audacious civil rights campaign of the 1960s." —William Sturkey, author of Hattiesburg: An American City in Black and White

"Here is the whole story of the young people who risked their lives for freedom that terrible, wonderful summer of 1964—and the disenfranchised Mississippians who risked their lives simply by being black. It's history that will make your blood boil. This page-turner should be required reading for every student." —Patricia Hruby Powell, author of Loving vs. Virginia, Lift As You Climb, and Sibert Honor Book Josephine

"Compelling, comprehensive, and immensely readable, Freedom Summer for Young People invites readers to confront a grim historical moment and to witness the courage of people who risked everything, even their lives, for the sake of racial equality in Mississippi. If you think you don't need yet another book about the Freedom Summer, you're wrong." —Chris Crowe, author of Getting Away with Murder: The True Story of the Emmett Till Case
Triangle Square, 9781644210093, 448pp.
Publication Date: November 10, 2020
About the Author
Bruce Watson's previous books include Sacco and Vanzetti, a finalist for the Edgar Award, and Bread and Roses, a New York Public Library Book to Remember. His journalism has appeared in the Los Angeles Times, the Boston Globe, Smithsonian, and Reader's Digest. He lives in Massachusetts.
Rebecca Stefoff has devoted her career to writing nonfiction books for young readers. Her publications include histories, literary biographies, an encyclopedia of maps, and numerous books on science and environmental issues. She has also adapted a number of landmark works in history and science, include Howard Zinn's A People's History of the United States, Jared Diamond's The Third Chimpanzee, Charles C. Mann's bestselling 1493, Jill Jonnes's Eiffel's Tower, and Ronald Takaki's A Different Mirror for Young People: A History of Multicultural America.