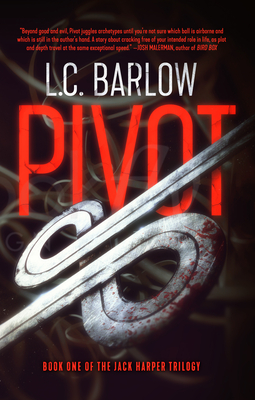 Pivot
Paperback

* Individual store prices may vary.
Other Editions of This Title:
MP3 CD (10/15/2019)
Compact Disc (10/15/2019)
Description
"Beyond good and evil, Pivot juggles archetypes until you're not sure which ball is airborne and which is still in the author's hand. A story about cracking free of your intended role in life, as plot and depth travel at the same exceptional speed." --Josh Malerman, author of Bird Box

Suspenseful and delightfully disturbing (...) This is a promising beginning to the Jack Harper trilogy. --Booklist

"Impressive and arresting prose drives this vivid debut. (...) Barlow's gorgeous writing will easily propel readers through the rest of the series." --Publishers Weekly

From the age of seven, Jack Harper is raised by the leader of a mystical cult, Cyrus Harper. Through Cyrus, Jack receives a full education in all usual subjects--economics, literature, mathematics, history--as well as one unique skill useful to a person in Cyrus's position: assassination. With the help of Roland James, a man incapable of dying, Cyrus hones Jack into the perfect weapon to use against all who oppose him. It is not long, however, before Jack discovers that Cyrus and Roland are not the only ones living in Cyrus's mansion. There, too, exists a mysterious creature in the depths of the house with supposed immortal magic. According to Roland, this creature is responsible for all the miraculous things Jack has witnessed throughout her childhood, including Roland's resurrection. The creature, potent and powerful, only weakens in the presence of Cyrus's red velvet box--a dark, enchanted tool that grants Cyrus his invincibility and ensures his reign. Lonely and terrified by her life in the cult, under Cyrus's neverending watch, Jack desperately pursues the mysterious being. When they finally meet, her world is turned upside down, as he offers her more than she could have ever expected--the possibility of escape and her own secret, magical power.

Rare Bird Books, 9781644280539, 288pp.
Publication Date: October 14, 2019
About the Author
L.C. Barlow is a writer and professor working primarily in the field of speculative fiction. She has an MA in English and MFA in Creative Writing. Her work has been published in various journals, and her fiction has reached over sixty-five thousand readers and garnered multiple awards and praise. Barlow lives in Dallas, TX with her two cats, Smaug and Dusty.