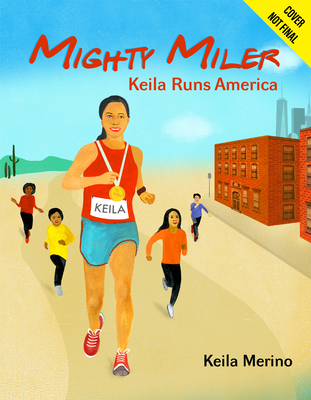 Mighty Miler
Keila Runs America
Paperback

* Individual store prices may vary.
Description
Keila Merino is nine years old when she and her family move to Arizona from Mexico. On her first day of 4th grade, she and her sister don't know anyone else besides each other.
Feeling shy and uncertain and speaking only a few words of English, Keila finds an unlikely friend in her gym teacher, Mr. Jones. He shouts out instructions to the students as they play kickball and dodgeball, and at first Keila doesn't understand him and doesn't know what to do. Finally, he yells out to her, "Just run " And then Keila starts running . . . and running . . . and running She discovers that she has a natural talent for the sport. Through running, Keila finds inside her a determination that she never knew she had. Learning to run like the wind, Keila bravely adapts to her new life in America and develops a confidence and sense of herself that will stay with her forever.
Mighty Miler
is the true story of ultrarunning champion, coach, and New York City schoolteacher Keila Merino. An immigrant from Mexico, she discovered running in the schoolyards of Arizona and has harnessed the sport to hurdle barriers of language, gender, and class. Today she competes around the world and shares a message of optimism, hard work, and kindness that has shaped the lives of her students--many of whom are immigrants--as much as it has her own. Keila's story shows that by following one's passion and helping others, one can achieve the American dream.
Six Foot Press, 9781644420256, 40pp.
Publication Date: October 15, 2024