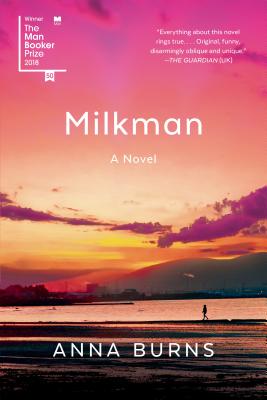 Milkman
A Novel
Paperback

* Individual store prices may vary.
Other Editions of This Title:
Digital Audiobook (9/4/2019)
Digital Audiobook (12/3/2018)
Digital Audiobook (5/16/2018)
Digital Audiobook (12/3/2018)
Paperback, Korean (10/4/2019)
Paperback, Chinese (5/1/2020)
Library Binding, Large Print (4/24/2019)
MP3 CD (12/4/2018)
Compact Disc (12/4/2018)
Paperback, Vietnamese (3/1/2020)
Hardcover, Japanese (12/1/2020)
Description
Winner of the Man Booker Prize

"Everything about this novel rings true. . . . Original, funny, disarmingly oblique and unique."—The Guardian

In an unnamed city, middle sister stands out for the wrong reasons. She reads while walking, for one. And she has been taking French night classes downtown. So when a local paramilitary known as the milkman begins pursuing her, she suddenly becomes "interesting," the last thing she ever wanted to be. Despite middle sister's attempts to avoid him—and to keep her mother from finding out about her maybe-boyfriend—rumors spread and the threat of violence lingers. Milkman is a story of the way inaction can have enormous repercussions, in a time when the wrong flag, wrong religion, or even a sunset can be subversive. Told with ferocious energy and sly, wicked humor, Milkman establishes Anna Burns as one of the most consequential voices of our day.
Praise For Milkman: A Novel…
"[Milkman] seeth[es] with black humor and adolescent anger at the adult world and its brutal absurdities. . . . For a novel about life under multifarious forms of totalitarian control—political, gendered, sectarian, communal—Milkman can be charmingly wry."—The New Yorker

"Brutally intelligent. . . . At its core, Milkman is [a] wildly good and true novel of how living in fear limits people."—NPR.org

"Milkman vibrates with the anxieties of our own era, from terrorism to sexual harassment to the blinding divisions that make reconciliation feel impossible. . . . It's as though the intense pressure of this place has compressed the elements of comedy and horror to produce some new alloy."—The Washington Post

"Milkman is a strange animal; it asks a lot, but gives something back, too: the electric jolt of a voice that feels utterly, sensationally new."—Entertainment Weekly (Grade: A–)

"[Burns'] style powerfully evokes the narrator's sense of emotional entrapment. . . . Milkman makes a passionate claim for freethinking in a place where monochromatic, us-versus-them ideology prevails."—USA Today

"Milkman is a deft and triumphant work of considerable intelligence and importance. . . . It is a deeply feminist work, a compelling and significant look at how the regular life of a young woman is intimately used for personal and political gain. . . . Middle Sister is a force. She is a modern heroine."—Los Angeles Times

"Few works of fiction see as clearly as this one how violence deforms social networks, enhancing, people's worst instincts. . . . This book is also bursting with energy, with tiny apertures of kindness, and a youthful kind of joy. . . . To plunge headlong into this voice now feels like a necessary reminder that one of the most complex and difficult emotions to put in a novel of darkness is joy. On that, too, perhaps especially so, Milkman is a triumph of resistance."—The Boston Globe

"Milkman is a richly complex portrayal of a besieged community and its traumatized citizens, of lives lived within many concentric circles of oppression. . . . Among Burns' singular strengths as a writer is her ability to address the topics of trauma and tyranny with a playfulness that somehow never diminishes the sense of her absolute seriousness. . . . There is a pulsating menace at the heart of the book, of which the title character is an uncannily indeterminate avatar, but also a deep sadness at the human cost of conflict. . . . For all the darkness of the world it illuminates, Milkman is as strange and variegated and brilliant as a northern sunset. You just have to turn your face toward it, and give it your full attention."—Slate

"This is a powerful, funny and sometimes immensely beautiful novel, with a female lead whose life is a low-key renunciation of the violence that shook her city for a generation."—Star Tribune (Minneapolis)

"At once intimate and universal, historical and fabulistic and timely, unconventional and almost sentimentally hopeful."—Vulture

"Milkman is an explosive novel, very much of history but not limited by the names, dates, and places of the official record. It's a more intimate work than that, and an outstanding contribution to the growing canon of nameless girl heroes."—The New Republic

"This coming-of-age tale is original, timely, and ultimately rewarding."—PopMatters

"Milkman vibrates. It is energized with a perspective that immerses the reader in a setting that commands attention."—Washington Independent Review of Books

"[Milkman] has unmistakable force and charisma."—WBUR "The ARTery"

"Timely and provocative; not to miss."—Orange County Register

"Imaginative, feminist, and genre-defying. . . . Burns has conjured an extraordinary world."—The National Book Review

"With an immense rush of dazzling language, Burns submerges readers beneath the tensions of life in a police state. . . . A deeply stirring, unforgettable novel that feels like a once-in-a-generation event."—Kirkus Reviews, starred review

"Acute, chilling, and often wry. . . . The narrator of this claustrophobic yet strangely buoyant tale undergoes an unsentimental education in sexual politics. This is an unforgettable novel."—Publishers Weekly, starred review

"Milkman is a uniquely meandering and mesmerizing, wonderful and enigmatic work about borders and barriers, both physical and spiritual, and the cost of survival."—Booklist, starred review

"Using stream of consciousness and few if any personal names, Burns creates a musical and lyrical tour de force."—Library Journal, starred review

"Eccentric and oddly beguiling. . . . What makes it memorable is the funny, alienated, common-sensical voice of middle sister, who refuses to join in the madness."—The Sunday Times (UK)

"Milkman is delivered in a breathless, hectic, glorious torrent. . . . It's an astute, exquisite account of Northern Ireland's social landscape. . . . A potent and urgent book, with more than a hint of barely contained fury."—Irish Independent

"I haven't stopped talking about Anna Burns's astonishing Milkman. The voice is dazzling, funny, acute. . . . Like all great writing it invents its own context, becomes its own universe."—Eoin McNamee, The Irish Times

"From the opening page her words pull us into the daily violence of her world—threats of murder, people killed by state hit squads—while responding to the everyday realities of her life as a young woman."—Kwame Anthony Appiah, chair of Man Booker Prize judging panel
Graywolf Press, 9781644450000, 360pp.
Publication Date: December 4, 2018
About the Author
Anna Burns was born in Belfast, Northern Ireland. She is the author of two novels, No Bones and Little Constructions, and of the novella, Mostly Hero. No Bones won the Winifred Holtby Memorial Prize and was shortlisted for the Orange Prize for Fiction. She lives in East Sussex, England.
1. When and where does Milkman take place? How do you know?
2. How did the author's avoidance of proper names, for both people and places, affect your experience of reading the book?
3. How do various characters in the novel express their political allegiances?
4. The milkman causes extreme fear and anxiety for middle sister, complicating her life even though their interactions are quite brief and never physical. Where does this power come from? Is it violent?
5. How does the milkman compare to villains you have encountered in other stories?
6. Even before the rumors about the milkman, middle sister aroused suspicions due to her unusual tendency to read while walking. What are some of the other reasons people in the community have come to be considered "beyond the pale"? How are these designations decided and enforced? Are there exceptions?
7. How is the "real milkman" significant to middle sister, to her family, and to the novel?
8. omplex feelings lie just below the surface in middle sister's family, particularly between her and her mother. How does their relationship change during the course of the novel?
9. Who is middle sister closest to? Who does she turn to when she needs to talk?
10. What are some cultural similarities or differences between the community in Milkman and your own?