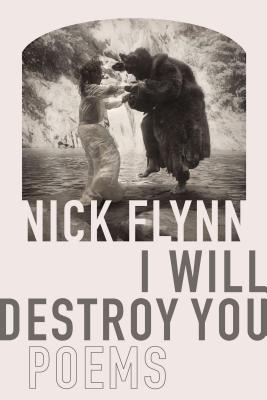 I Will Destroy You (Paperback)
Poems
Graywolf Press, 9781644450024, 80pp.
Publication Date: September 3, 2019
* Individual store prices may vary.
Description
The newest collection from Nick Flynn, whose "songs of experience hum with immediacy" (The New York Times)

Beginning with a poem called "Confessional" and ending with a poem titled "Saint Augustine," Nick Flynn's I Will Destroy You interrogates the potential of art to be redemptive, to remake and reform. But first the maker of art must claim responsibility for his past, his actions, his propensity to destroy others and himself. "Begin by descending," Augustine says, and the poems delve into the deepest, most defeating parts of the self: addiction, temptation, infidelity, and repressed memory. These are poems of profound self-scrutiny and lyric intensity, jagged and probing. I Will Destroy You is an honest accounting of all that love must transcend and what we must risk for its truth.
About the Author
NICK FLYNN's work—which includes Another Bullshit Night in Suck City, winner of the PEN/Martha Albrand Award for Memoir, and the poetry collections Blind Huber and Some Ether—has been translated into thirteen languages.
Praise For I Will Destroy You: Poems…
"Nick Flynn's poems are gritty and emotional, grim and loving, funny and also about death and addiction and grief. I can't wait to sleep with this volume under my pillow."—Literary Hub

"Each poem is a compelling dynamic where language is shattered and rebuilt to convey truths that are haunting and beautiful. Nobody bends a lyric the way Flynn does to break the heart."—Washington Independent Review of Books

"Nick Flynn's fifth collection of poems is riveting, the verses scalding in their passion. . . . I Will Destroy You is a superb book."—Shelf Awareness

"Beautifully crafted poems from the (broken) heart; the masterly Flynn doesn't drag us into the depths but rises to meet us."—Library Journal

"What is there to say when a book is such absolute perfection—beauty, grief, and redemption—that it literally takes all words and air from the mouth?"—Jacqueline Woodson

"To read these poems is to reach in and touch the scar, the feigned wound, put trust in what may, at any moment, show its teeth, bite, transmogrify into dissolution, deception, destruction and, yes, love.'"—Nuar Alsadir

"Nick Flynn, that charismatic horse thief, is up to it again. Standing this close. Whatever you have or had to lose (to win), he's already stolen and sold it. And yet you still (and so badly) want to hear from him, have him tell you how we (can) live."—Olena Kalytiak Davis