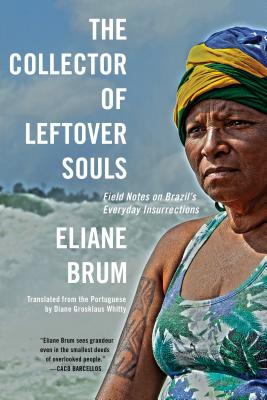 The Collector of Leftover Souls
Field Notes on Brazil's Everyday Insurrections
Paperback

* Individual store prices may vary.
Description
Longlisted for the National Book Award for Translated Literature

Urgent investigative essays covering a wide range of humanity in Brazil, from the Amazon to the favelas

Eliane Brum is a star journalist in Brazil, known for her polyphonic writing that gives voice to people often underrepresented in popular literature. Brum's reporting takes her into Brazil's most marginalized communities: she visits the Amazon to understand the practice of indigenous midwives, stays in São Paulo's favelas to witness the joy of a marriage and the tragedy of young men dying due to drugs and guns, and wades through the mud to capture the boom and bust of modern-day gold rushes. Brum is an enormously sensitive and perceptive interlocutor, and as she visits these places she provides intimate glimpses into both everyday and extraordinary lives: a poor father on the way to bury his son, a street performer who eats glass, a woman living out her final 115 days, and a hoarder rescuing the "leftover souls" of the city.

The Collector of Leftover Souls showcases the best of Brum's work from two books, combining short profiles with longer reported pieces. These vibrant missives range across current issues such as the human cost of exploiting natural resources, the Belo Monté Dam's eradication of a way of life for those on the banks of the Xingu River, and the contrast between urban centers and remote villages. Told in the vibrant and idiomatic language of the people Brum writes about, The Collector of Leftover Souls is a vital work of investigative journalism from an internationally acclaimed author.
Praise For The Collector of Leftover Souls: Field Notes on Brazil's Everyday Insurrections…
"In poetic, immersive essays, Brum assembles a chorus of 'many Brazilian tongues': forest-dwelling midwives, elderly-care-home residents, a terminal cancer patient, far-flung Amazon populations."—The New Yorker

"In confirming the humanity of those whom we might easily overlook, Brum's writing is a call to greater awareness of the lives around us."—Ploughshares

"While Brum does not shy away from the violence and poverty that sometimes overshadow Brazil's reputation, her talent is in profiling and humanizing people who are too often treated as an undifferentiated mass. In the process, she honors their pursuit of joy and justice—their everyday insurrections."—Shelf Awareness

"Ordinary lives rendered extraordinary by a master journalist who captures all their perplexity and quiet rebellion."—Kirkus Reviews, starred review

"Brum shows how her subjects, people excluded from wealth and privilege, resist in a myriad of ways the society determined to marginalize them. Thanks to her sensitive and adventurous reporting, [The Collector of Leftover Souls is] full of people and stories not soon forgotten."—Publishers Weekly

"With lyricism and heart, renowned journalist Eliane Brum draws us into the lives of everyday Brazilians and their stories, until we see not one Brazil but many."—Frances de Pontes Peebles

"Eliane Brum asks us on every page to contemplate the privileged gaze . . . and to consider how it might be transformed into art and, ultimately, action."—Francisco Cantú

"Eliane Brum has it all and is a unique voice that understands the Brazil of today."—Juan Pablo Villalobos

"[Eliane Brum's] vision of human beings isn't tainted by buzzwords or what she or they ought to feel. Her sympathies are broad, nuanced, and humane."—Tom Sleigh

"This immersive tale of a journey through many-voiced, many-forested Brazil is achingly humane, beautifully written, and essential to our understanding of why the Earth is our greatest wealth."—Kapka Kassabova
Graywolf Press, 9781644450055, 232pp.
Publication Date: October 15, 2019
About the Author
Eliane Brum is a writer, journalist, and documentary filmmaker, and the author of five books of nonfiction and the novel One Two. She has won more than forty journalism prizes and honors, is a columnist for El País, and collaborates with The Guardian.
or
Not Currently Available for Direct Purchase