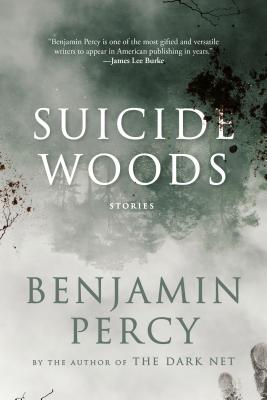 Suicide Woods
Stories
Paperback

* Individual store prices may vary.
Description
A spine-tingling new collection of stories from the acclaimed author of Thrill Me and The Dark Net

Benjamin Percy is a versatile and propulsive storyteller whose genre-busting novels and story collections have ranged from literary to thriller to postapocalyptic. In his essay collection, Thrill Me, he laid bare for readers how and why he channels disparate influences in his work. Now, in his first story collection since the acclaimed Refresh, Refresh, Percy brings his page-turning skills to bear in Suicide Woods, a potent brew of horror, crime, and weird happenings in the woods.

A boy in his uncle's care falls through the ice on a pond and emerges in a frozen, uncanny state. A group of people in therapy for suicidal ideation undergoes a drastic session in the woods with fatal consequences. A body found on a train and a blood-soaked carpet in an empty house are clues to a puzzling crime in a small town. And in a pulse-quickening novella, thrill seekers on a mapping expedition into the "Bermuda Triangle" of remote Alaska are stranded on a sinister island that seems to want them dead.

In story after story, which have appeared in magazines ranging from the Virginia Quarterly Review and Orion Magazine to McSweeney's and Ploughshares, Percy delivers haunting and chilling narratives that will have readers hanging on every word. A master class in suspense and horror, Suicide Woods is a dark, inventive collection packed to the gills with eerie, can't-miss tales.
Praise For Suicide Woods: Stories…
"Twisted and thorny and beautiful. . . . A small masterpiece."—The New York Times Book Review

"Some of us crave subtler scares, and as Halloween approaches, [Suicide Woods] reminds us that the genre thrives on nuance. . . . This intelligent, entertaining book demonstrates why [Percy has] emerged as one of the more interesting writers working this territory."—San Francisco Chronicle

"Every story is individual and utterly captivating."—Newsweek

"Mesmerizing. . . . Even in Percy's eeriest tales, compassion and wry humor infuse the narratives. Suicide Woods is more Stranger Things than Twilight Zone, closer to King than Kafka, and it's as entertaining as whatever chilling show you're bingeing on Netflix right now."—Star Tribune (Minneapolis)

"Benjamin Percy's new collection, Suicide Woods, is a total nightmare — in the best way possible. . . . Percy lures readers into a world that is part real, part surreal. . . . This merging of reality and dream states has a powerfully unsettling effect . . . but Percy nestles shimmers of hope in the dark forest . . . . Above all, the language throughout is remarkable: sharp and stinging, yet replete with desolate, hypnagogic beauty."—Washington Independent Review of Books

"[Suicide Woods] is a fine reminder of what happens when a writer taps into their penchant for the outright fantastical, and the unsettling stories that can arise as a result."—Tor Magazine

"An addictive mix of gritty crime fiction and otherworldly horror. . . . Percy's prose is exacting, finely tuning the atmospherics that give the collection such an eerie overall feeling. . . . Suicide Woods is a testament to Percy's skill as a writer. He takes no shortcuts in eliciting thrills. The collection is by turns provocative and terrifying."—Shelf Awareness

"The virtue of this collection lies in its super-refined telling, thanks to Percy's efforts to break through the barriers between genre fiction and literature."—BookPage

"Like modern Grimm fairy tales, the stories in this volume are cautionary and haunting."—Kirkus Reviews, starred review

"Percy's haunting, well-crafted prose frequently elevates the mundanity and isolation of being human into something otherworldly in his genre-bending collection [Suicide Woods]. . . . This gripping, often unnerving collection showcases Percy's talent as a skilled, versatile storyteller."—Publishers Weekly

"Percy's stories are atmospheric, concise, and at times terrifying, and he leads readers into unexpected revelations and visceral violence."—Booklist

"Suicide Woods deals in a shivery fear, a dreamlike unease, a sense of eldritch hallucinations creeping toward us. I love this book."—Luis Alberto Urrea

"Fiction doesn't get more red in tooth and claw than this. Every page drips, every story leaves you bleeding."—Stephen Graham Jones
Graywolf Press, 9781644450062, 216pp.
Publication Date: October 15, 2019
or
Not Currently Available for Direct Purchase