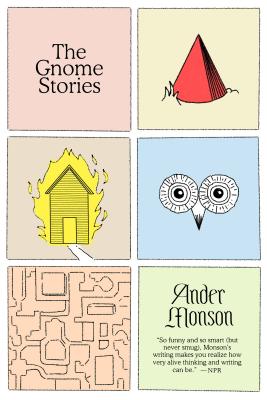 The Gnome Stories
Stories
Paperback

* Individual store prices may vary.
Description
An unsettling, wildly imaginative collection of stories

The Gnome Stories focuses on characters who are loners in the truest sense; who are in the process of recovering from mental, physical, or emotional trauma; and who find solace—or at least a sense of purpose—in peculiar jobs and pursuits.

A man whose wife has left him is robbed, so he decides to start doing his own breaking and entering, into his neighbors' homes. When another man's girlfriend is cryogenically frozen by her family after a car accident, he becomes a maintenance worker at the cryogenic facility, eavesdropping on visitors as they whisper secrets to their frozen loved ones. A woman serves as an assistant to the Starvationist, whose methods to help clients lose large amounts of weight are unorthodox, sadistic—and utterly failproof. Another woman and her robot assistant have been hired to tinker with the troubling memories inside a celebrity's brain.

With The Gnome Stories, Ander Monson presents eleven unforgettable stories about oddly American situations: as surreal as an urban legend and at the same time perfectly mundane.
Praise For The Gnome Stories: Stories…
"Monson parses the world and its constructs so finely, that anyone could be forgiven for feeling a little out of their depths. A little suspended disbelief may be required and certainly more than one reading, but if you wade deeply into these adventurous exercises the reward is often well worth it."—The Brooklyn Rail

"Monson's stories wrestle with grief and the mystery of life's bigger questions. Though, there are absurd and comic moments that take the edge of some of the challenging possibilities they pose."—PSU Vanguard

"Cozy domestic lives are routinely unsettled, sometimes violently, in this dystopian set of stories by seasoned experimenter Monson. . . . Bemusing SF-tinged fare echoing the tone and spirit of Saunders and Vonnegut."—Kirkus Reviews

"Ander Monson has always been fascinated by . . . human creatures who unexpectedly shine their light on the rest of us. [He] is an American Kafka . . . The Gnome Stories will stay in your memory long after you have finished the book."—Charles Baxter

"Like a haunted set of nested dolls, Ander Monson's excellent short stories open up to reveal the surprisingly looming, gothic spaces that contemporary American life inevitably contains."—Kelly Link
Graywolf Press, 9781644450123, 192pp.
Publication Date: February 4, 2020
About the Author
Ander Monson is the author of Other Electricities, a finalist for the New York Public Library Young Lions Fiction Award, and four essay collections, including I Will Take the Answer. He lives in Tucson, where he teaches at the University of Arizona.
or
Not Currently Available for Direct Purchase