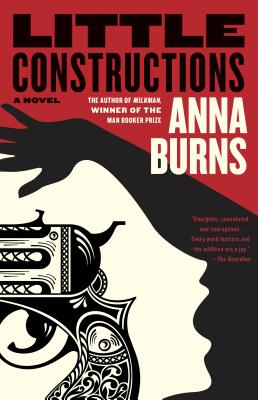 Little Constructions
A Novel
Paperback

* Individual store prices may vary.
Description
The darkly comic second novel from the author of the Man Booker Prize winner Milkman, now available in the United States

In the small town of Tiptoe Floorboard, the Doe clan, a close-knit family of criminals and victims, has the run of the place. Yet there are signs that patriarch John Doe's reign may be coming to an end. When Jetty Doe breaks into a gun store and makes off with a Kalashnikov, the stage is set for a violent confrontation. But while Jetty is making her way across town in a taxi, an elusive, chatty narrator takes us on a wild journey, zooming in and out on various members of the Doe clan with long, digressive riffs that chase down the causes and repercussions of Jetty's act.

Before Milkman took the world by storm after winning the Man Booker Prize, Anna Burns had already honed her distinctive voice. In her second novel, Little Constructions, she exhibits the same linguistic brio, coruscating wit, and scintillating insight into men, women, and the roots of violence. A wickedly funny novel that swoops and spirals as it examines the long shadow of abuse and violent crime, Little Constructions explores what transpires when unspeakable realities, long hidden from view, can no longer be denied.
Praise For Little Constructions: A Novel…
"It is a rare novelist who can approach the unspeakable with restorative humor, but Burns has a gift for dismantling and reconstructing things on her own quixotic terms, as she suggests with the perfectly chosen title for this book."—The New York Times Book Review

"Burns is a magical writer, and Little Constructions is a firestorm of a novel, filled with a rage that feels unstoppable."—NPR

"Little Constructions is a prayer not just for the people of Tiptoe Floorboard, but for towns just like it all over the world, scarred by violence and transformed into a place where the dead walk alongside the living, the living enfold themselves in little constructions, and the currency in which the community traffics is shame that stems from a trauma that refuses to be named."—Los Angeles Times

"There are gun shops and gun shop owners, calculated killers and victims caught in long cycles of violence, and throughout it all runs Burns's surrealist prose and pitch black humor." —The Millions

"Burns's humor does not undercut the seriousness of violence as much as it undercuts the pathetic delusions of those who cannot see their own violence for what it is."—The Baffler

"Burns fashions storyline, narration, metaphor, and parody into a laser beam to focus on larger social issues—into which she digs deeply, using social psychology as her shovel."—The Woven Tale Press

"Burns's raucous, exacting modernist crime novel . . . skewers men's incomprehension of women."—Publishers Weekly

"Burns has deep reserves of empathy. . . . [Little Constructions] speaks to her ability to write about violence in powerful and unconventional ways."—Kirkus Reviews

"Those who prefer their fiction edgy and their humor dark will take pleasure in the jivy rhythms of this unconventional early novel from the Booker Prize–winning Burns."—Library Journal

"[Little Constructions] contains echoes of James Joyce. . . . As dark and as wild as Milkman and yet different, singular."—Booklist
Graywolf Press, 9781644450130, 304pp.
Publication Date: February 18, 2020
About the Author
Anna Burns was born in Belfast, Northern Ireland. She is the author of three novels, including Milkman and No Bones, and a novella Mostly Hero. She lives in East Sussex, England.