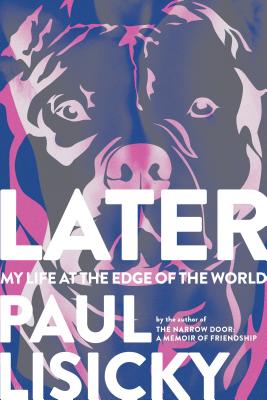 Later
My Life at the Edge of the World
Paperback

* Individual store prices may vary.
Description
A stunning portrait of community, identity, and sexuality by the critically acclaimed author of The Narrow Door

When Paul Lisicky arrived in Provincetown in the early 1990s, he was leaving behind a history of family trauma to live in a place outside of time, known for its values of inclusion, acceptance, and art. In this idyllic haven, Lisicky searches for love and connection and comes into his own as he finds a sense of belonging. At the same time, the center of this community is consumed by the AIDS crisis, and the very structure of town life is being rewired out of necessity: What might this utopia look like during a time of dystopia?

Later dramatizes a spectacular yet ravaged place and a unique era when more fully becoming one's self collided with the realization that ongoingness couldn't be taken for granted, and staying alive from moment to moment exacted absolute attention. Following the success of his acclaimed memoir, The Narrow Door, Lisicky fearlessly explores the body, queerness, love, illness, community, and belonging in this masterful, ingenious new book.
Praise For Later: My Life at the Edge of the World…
"Later: My Life at the Edge of the World intimately and extensively recounts the time [Lisicky] spent [in Provincetown] in the early 1990s, growing into his own, sexually and emotionally, in a community grappling with the AIDS epidemic."—The New York Times

"This memoir is much like [Lisicky's] Provincetown, exulting in tenderness and lust, lit with flashes of poignant spectacle, even the majestic—the way a drag queen at night can become, in sequins under a spotlight, full of the fire and beauty we associate with goddesses, before descending back to the realm of the human."—The Los Angeles Times

"Part Lonely Planet guide, part ghost story, Paul Lisicky's latest memoir may well cement his status as queer king of the genre. Encompassing the author's time in Provincetown in the early 1990s, Later charts Lisicky's journey of coming out and coming of age amid the backdrop of a gay idyll still reeling from the AIDS crisis."—Harper's Bazaar

"[A] coastal elegy . . . ravishing in its precision and restraint. . . . What's affecting here is Lisicky's preservation of a multitude of subtle, ambivalent feelings, of small kindnesses and cruelties. Nothing is simplified in a bid for universal resonance, and the text is richer for that."—Harper's

"Later takes us on a heart-wrenching journey. . . . Lisicky masterfully situates himself within [a queer history of the 80s and 90s], giving his readers a unique glimpse into his fear of getting tested, the Provincetown-specific frailty of human relationships in the face of contagion, and how death looms as would a shadow in the daily life of a meandering writer. . . . [Lisicky] seduces us, breaks our heart, and helps us put it back together."—Los Angeles Review of Books

"Delving into the dichotomy of utopia and dystopia; into bodies, love, community, and queer life; Lisicky brings his signature attentive and sumptuous prose to yet another tender, vital work of literature."—Literary Hub

"A sobering sense of impermanence permeates the pages of Later, which acts as a ruminative guide to an exhilarating queer utopia, one reeling from the impact of a dystopian age."—them.

"Lisicky invites his reader into this delicate, brutal, and moving psychoanalytical terrain. . . . He seduces us, breaks our heart, and helps us put it back together."—Los Angeles Review of Books

"With deep sensitivity, love, and gravity, Lisicky finds connections both haunting and liberating in this tender and energetic book."—New York Observer

"[Lisicky's] prose is beautiful but never overwrought, and almost aphoristic at times. . . . This heartfelt memoir will appeal to literary readers and certainly those with ties to Provincetown and its gay community."—Library Journal

"This is such a sexy, funny, sad book. . . . Paul Lisicky's energized and deeply frank prose makes living (as he shows it) feel like a bit of a miracle."—Eileen Myles

"With searing, sexy candor and heartrending tenderness, Paul Lisicky chronicles the grace of finding, after a youth of displacement, a haven where he wholeheartedly belongs; and chronicles too the grief of seeing that haven devastated by AIDS."—Garth Greenwell

"Lisicky returns us to the art-making and joy; the dancing in and through sorrow; the sex; and the potential, both squandered and realized, of finding oneself at the end of the world."—Justin Torres

"Later is a vital, dazzling memoir. . . . This story challenges and illuminates—and, as only the best books do, leaves the reader fundamentally transformed."—Rebecca Makkai

Graywolf Press, 9781644450161, 240pp.
Publication Date: March 17, 2020
About the Author
Paul Lisicky is the author of five books, including Famous Builder and Lawnboy. He has received fellowships from the Guggenheim Foundation and the NEA, among other organizations. He teaches in the MFA program at Rutgers University and lives in Brooklyn.
or
Not Currently Available for Direct Purchase