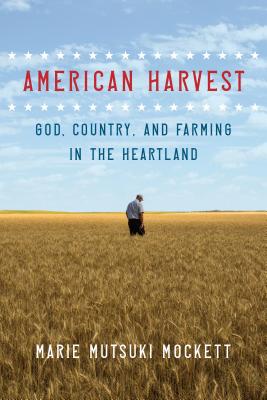 American Harvest
God, Country, and Farming in the Heartland
Hardcover

* Individual store prices may vary.
Other Editions of This Title:
Paperback (4/20/2021)
Description
An epic story of the American wheat harvest, the politics of food, and the culture of the Great Plains

For over one hundred years, the Mockett family has owned a seven-thousand-acre wheat farm in the panhandle of Nebraska, where Marie Mutsuki Mockett's father was raised. Mockett, who grew up in bohemian Carmel, California, with her father and her Japanese mother, knew little about farming when she inherited this land. Her father had all but forsworn it.

In American Harvest, Mockett accompanies a group of evangelical Christian wheat harvesters through the heartland at the invitation of Eric Wolgemuth, the conservative farmer who has cut her family's fields for decades. As Mockett follows Wolgemuth's crew on the trail of ripening wheat from Texas to Idaho, they contemplate what Wolgemuth refers to as "the divide," inadvertently peeling back layers of the American story to expose its contradictions and unhealed wounds. She joins the crew in the fields, attends church, and struggles to adapt to the rhythms of rural life, all the while continually reminded of her own status as a person who signals "not white," but who people she encounters can't quite categorize.

American Harvest is an extraordinary evocation of the land and a thoughtful exploration of ingrained beliefs, from evangelical skepticism of evolution to cosmopolitan assumptions about food production and farming. With exquisite lyricism and humanity, this astonishing book attempts to reconcile competing versions of our national story.
Praise For American Harvest: God, Country, and Farming in the Heartland…
"Mockett, writing with a gentle self-consciousness, offers a compassionate portrait of conservative evangelicals, along with lucid musings on agricultural science, Native American history, and the quiet majesty of the Great Plains."—The New Yorker

"A rich blend of science, philosophy and spirituality."—Star Tribune (Minneapolis)

"[Marie Mutsuki Mockett] has the kind of deft touch with the English language that would make me read a book by her, no matter what it was about. . . . At the end of the trip, Mutsuki Mockett bemoans the fact that she wants her 'old self to reappear'—but it won't. The Midwest has changed her. That, perhaps, is her greatest talent: the willingness to examine, even abandon, her own biases before she casts stones. That's a lesson in empathy that we can all learn from, in the time of coronavirus, in the time of presidential elections—and beyond."—Financial Times

"[American Harvest is] by turns a woman's travelogue of the Great Plains, a sweeping history of the American West, and a cross-sectional study of contemporary Christian theology."—Bookforum

"A sprawling story of pilgrimage, spiritual and personal and cultural, and Mockett's gaze is both penetrating and sweeping. . . . American Harvest is sure to wield authority in election-year conversations about what the place named in Mockett's subtitle—heartland—signifies."—The Christian Century

"Essential pandemic reading. . . . [American Harvest] strives not only to understand the most rural parts of the heartland, but to take a good hard look at the growing divide between rural America and its urban sisters."—Book Riot

"[Marie Mutsuki Mockett] tell[s] a tale that is at times haunting, sometimes moving and always reported with a keen eye and open mind. This is one of the most important books of 2020."—Inside Hook

"When she inherits the family farm, Mutsuki Mockett begins a journey into the center of America—its agrarian rhythms, its generosity, its enormous blindspots—and comes out the other side with the kind of perspective we need more of right now."—Literary Hub

"Essential pandemic reading. . . . [American Harvest] strives not only to understand the most rural parts of the heartland, but to take a good hard look at the growing divide between rural America and its urban sisters."—Book Riot

"Fascinating [and] well-written. . . . [Mutsuki Mockett's] keen observations from a non-Christian perspective are gracious and illuminating."—The Mennonite

"A revealing, richly textured portrait of the lives of those who put food on our tables."—Kirkus Reviews

"Filled with rich descriptions, this illuminating memoir wonderfully captures farming life in Middle America."—Publishers Weekly

"Books enable readers to broaden their lives, and this one—in which Marie Mutsuki Mockett joins a crew harvesting wheat—is a doozy, as Studs Terkel's were. . . . I never knew a person on a wheat-harvesting crew, and now I do, thanks to Mockett's vivid and true account."—Annie Dillard

"A patient, radiant, kindly book that in its own way determinedly adds a brick to the shining city on the hill where Americans will understand each other."—Francis Spufford

"Marie Mutsuki Mockett describes the American plains as having 'a subtle gradation in topography that suits a ruminating mind,' and the same can be said of her stunning new book. . . . Her insights are ones we could all stand to learn from right about now."—John Jeremiah Sullivan

"In the best tradition of travel literature, American Harvest is a discursive odyssey, an exploration of self, others, faith, and a landscape of terrible beauty."—Randall Balmer

"Traveling the West with a group of grain harvesters is a great idea for a book, and Mockett, the daughter of a Nebraska farm family, gives her whole self to it. . . . A beautiful and powerfully moving book."—Ian Frazier

"Marie Mutsuki Mockett's American Harvest is a book about this country unlike any other. Mockett's account of the harvest is riveting, and the way she navigates her own plural identity as she travels with the combines is brilliant. This is a stunning, astonishing accomplishment."—Susan Cheever

"An extraordinary feat of empathy set against a land of reds, whites, and blues, American Harvest doesn't just speak to the great divide—it dares to bridge it."—Marlon James
Graywolf Press, 9781644450178, 416pp.
Publication Date: April 7, 2020
About the Author
Marie Mutsuki Mockett was born to a Japanese mother and an American father. Her Japanese family owns and runs a Buddhist temple that has, among other things, performed exorcisms. This is her first novel.
1. Early in the book, Eric Wolgemuth identifies "the divide" as a prominent feature of contemporary American life. What are some examples of that divide? What groups or ideas stand on either side of it? Do you agree that it's an accurate description of the society we live in?
2. Throughout her journey, Mockett listens closely as various people describe their personal experience of faith. What are some of the different ideas she encounters about what being a "good Christian" means?
3. Mockett asks her family early in the book, "Why are our farmers and harvesters, who are conservative Christians, okay with GMOs, while people in the city, who believe in evolution, are obsessed with organic food?" (14). What answers does Mockett find, if any?
4. How does Mockett's experience as a woman of color play an integral part in her journey with the harvesters? Were you surprised by the direction or shape taken by her discussions about race with the people she encounters?
5. On page 52, Marie asks Juston "Did you always doubt?" In what ways are Juston and Marie similar, particularly regarding their journeys around belief? In what ways do their approaches remain different?
6. How does Mockett's presence on the crew either create or exacerbate certain tensions? Do you think she could have done something differently? Did she succeed in bridging Eric's "divide"?
7. American Harvest pays close attention to the ways our preconceptions might get in the way of understanding complex realities. Did reading the book change the ways you think about any or all of the below? If so, how?


organic food


farming


the heartland


religion


8. Mockett spends considerable time on the road, meeting new people and engaging them in conversation. Can you think of any questions or topics you wish you could similarly explore, simply by going out and talking to new people?
9. What are some of the ways that Mockett has changed by the end of the book? What are some of the ways Eric and Juston Wolgemuth have changed?
10. How does the epigraph from Nikki Giovanni encapsulate the themes of Mockett's journey?