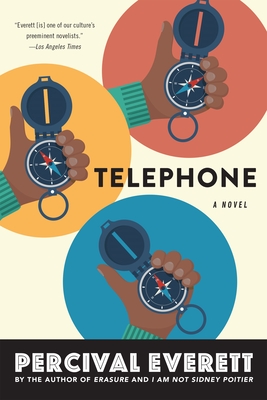 Telephone
A Novel
Paperback

* Individual store prices may vary.
Description
FINALIST FOR THE 2021 PULITZER PRIZE IN FICTION

An astonishing new novel of loss and grief from "one of our culture's preeminent novelists" (Los Angeles Times)

Zach Wells is a perpetually dissatisfied geologist-slash-paleobiologist. Expert in a very narrow area—the geological history of a cave forty-four meters above the Colorado River in the Grand Canyon—he is a laconic man who plays chess with his daughter, trades puns with his wife while she does yoga, and dodges committee work at the college where he teaches.

After a field trip to the desert yields nothing more than a colleague with a tenure problem and a student with an unwelcome crush on him, Wells returns home to find his world crumbling. His daughter has lost her edge at chess, she has developed mysterious eye problems, and her memory has lost its grasp. Powerless in the face of his daughter's slow deterioration, he finds a mysterious note asking for help tucked into the pocket of a jacket he's ordered off eBay. Desperate for someone to save, he sets off to New Mexico in secret on a quixotic rescue mission.

A deeply affecting story about the lengths to which loss and grief will drive us, Telephone is a Percival Everett novel we should have seen coming all along, one that will shake you to the core as it asks questions about the power of narrative to save.
Praise For Telephone: A Novel…
"Sometimes, almost indifferently, one of [Percival Everett's] novels turns out to be truly exceptional and memorable, and confuses me in the best possible way. . . . Everett's most recent novel, Telephone, is one of these standouts. . . . Everett pulls off a gently tremendous technical feat with the accumulated little slips out of the present situation. . . . For this reader, the reveries and exits accumulated such that the final and longest slide into the wilderness made the turn to the closing pages sad, affecting and marvelous."—Rivka Galchen, The New York Times Book Review

"God bless Percival Everett, whose dozens of idiosyncratic books demonstrate a majestic indifference to literary trends, the market or his critics."—The Wall Street Journal

"Like watching a skilled juggler execute a six-ball fountain, the experience of reading Telephone is astonishing."—Los Angeles Times

"A spellbinding, heartbreaking tale."—Publishers Weekly
Graywolf Press, 9781644450222, 224pp.
Publication Date: May 5, 2020
About the Author
Percival Everett is the author of more than twenty books. He is the recipient of the Hurston/Wright Legacy Award and the PEN Center USA Award for Fiction. He teaches at the University of Southern California and lives outside Los Angeles.
1. What does the high specificity of Zach Wells's research focus say about him as a person? How does his research factor into the novel?
2. While reading, did you have problems distinguishing Zach Wells's dreams from his reality? How might this have impacted your understanding of the novel?
3. Do you think it was right to keep Sarah's diagnosis and consequential prognosis from her? Does Sarah ever fully realize what is happening to her? What parts of the story support your way of thinking?
4. Each section of Telephone is interspersed with disruptions to the narrative ("Castling Short" contains chess moves; "la grande finesse n'est pas celle qui s'apercoit" contains descriptions of French paintings in the Louvre; etc.). How do these interludes affect the experience of the reading of the book?
5. How do racial tensions and right-wing ideologies affect the Wells family? What does Telephone add to the conversation surrounding racial and political tensions over the Mexican-American border? Was Zach Wells justified in being distrustful of the New Mexico police?
6. How does Zach and Meg's relationship change over the course of the novel?
7. What role does inheritance and family play in the novel? Think on the characters' bodies, lifestyles, cultural statuses, and thought patterns.
8. Why does Zach really go to New Mexico to rescue the women? How does his decision to do so relate to the other parts of his life?
9. The possibility of seeing and coming in contact with wild animals—like rattlesnakes and bears—recurs throughout the novel. Why are they important? What influence does the natural world have on those who are suffering with loss and grief?
10. Was the ending expected or unexpected? How did it differ from what you may have wanted or anticipated? How does it fit the themes of the novel?
11. Why do you think Everett titled the novel Telephone?
12. Did any readers in your group experience different events and even endings to the novel? If you read print editions, are there any differences on the physical books themselves?