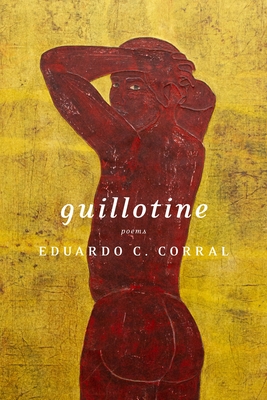 Guillotine
Poems
Paperback

* Individual store prices may vary.
Description
LONGLISTED FOR THE 2020 NATIONAL BOOK AWARD FOR POETRY

The astonishing second collection by the author of Slow Lightning, winner of the Yale Younger Poets Prize

Guillotine traverses desert landscapes cut through by migrants, the grief of loss, betrayal's lingering scars, the border itself—great distances in which violence and yearning find roots. Through the voices of undocumented immigrants, border patrol agents, and scorned lovers, award-winning poet Eduardo C. Corral writes dramatic portraits of contradiction, survival, and a deeply human, relentless interiority. With extraordinary lyric imagination, these poems wonder about being unwanted or renounced. What do we do with unrequited love? Is it with or without it that we would waste away?

In the sequence "Testaments Scratched into Water Station Barrels," with Corral's seamless integration of Spanish and English, poems curve around the surfaces upon which they are written, overlapping like graffiti left by those who may or may not have survived crossing the border. A harrowing second collection, Guillotine solidifies Corral's place in the expanding ecosystem of American poetry.
Praise For Guillotine: Poems…
"Corral nimbly bridges the personal and political, evoking themes of migration to ask what it means to be unwanted."—The New York Times Book Review, New & Noteworthy

"The lyricism of this writing pulls us toward wonder, before, an instant later, documentary fact returns us to horror."—The New Yorker

"No matter what his subject, Corral is a gifted storyteller, precise and dizzying with his imagery."—The Millions

"Each poem exists as its own small story, using Corral's gift for imaginative prose to establish an intimacy between writer and reader in only a handful of words."—Willamette Week

"Devastating and electrifying. . . . Shot through with the dark realities of human tragedy, Corral's latest is a virtuosic compendium of grief."—Publishers Weekly, starred review

"Eduardo Corral's ravishing new collection begins with a ceremony of touch-hunger and self-abnegation. . . . An erotics of loneliness, a deep song of exile, of indefinable yearning. At times, even the text itself blurs. It's as if I am reading through smoke, through tears."—Diane Seuss

"These poems step 'into the grit / & whirl' of the desert like a fervent saint: devotional, rhapsodic, divine. . . . Guillotine is a timely, excoriating, and captivating book born of perilous times."—D. A. Powell

"A master artist. . . . Only a poet as skilled as Corral could connect rejection from the US nation-state with unrequited love to such effect. Carefully code-switching between Spanish and English, Corral is a poet to be studied for his radical contributions to the American canon."—Natalie Scenters-Zapico
Graywolf Press, 9781644450307, 72pp.
Publication Date: August 4, 2020
About the Author
Eduardo C. Corral is the author of Slow Lightning, winner of the Yale Younger Poets Prize, and a recipient of a Whiting Writers' Award and the Hodder Fellowship from Princeton University. He teaches at North Carolina State University.