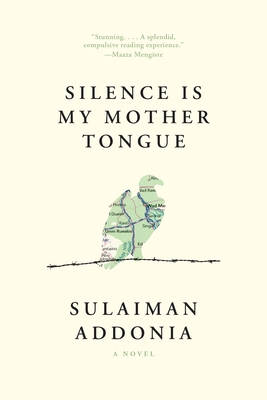 Silence Is My Mother Tongue
A Novel
Paperback

* Individual store prices may vary.
Other Editions of This Title:
Compact Disc (9/24/2020)
MP3 CD (9/24/2020)
Description
A sensuous, textured novel of life in a refugee camp, long-listed for the Orwell Prize for Political Fiction

On a hill overlooking a refugee camp in Sudan, a young man strings up bedsheets that, in an act of imaginative resilience, will serve as a screen in his silent cinema. From the cinema he can see all the comings and goings in the camp, especially those of two new arrivals: a girl named Saba, and her mute brother, Hagos.

For these siblings, adapting to life in the camp is not easy. Saba mourns the future she lost when she was forced to abandon school, while Hagos, scorned for his inability to speak, must live vicariously through his sister. Both resist societal expectations by seeking to redefine love, sex, and gender roles in their lives, and when a businessman opens a shop and befriends Hagos, they cast off those pressures and make an unconventional choice.

With this cast of complex, beautifully drawn characters, Sulaiman Addonia details the textures and rhythms of everyday life in a refugee camp, and questions what it means to be an individual when one has lost all that makes a home or a future. Intimate and subversive, Silence Is My Mother Tongue dissects the ways society wages war on women and explores the stories we must tell to survive in a broken, inhospitable environment.
Praise For Silence Is My Mother Tongue: A Novel…
"Elegant and descriptive . . . A riveting, mysterious, almost magical and delightfully chaotic depiction of the inner workings of an East African refugee camp. . . . As this story of young, codependent refugees is propelled into a revelatory, formally experimental and ultimately tragic conclusion, the initial depth and beauty Jamal witnessed through his 'cinema" curtains has only further blossomed. The novel leaves us with the lingering imprint of the siblings' many sacrifices, and their ever-growing love."—The New York Times Book Review

"Silence is My Mother Tongue dissects how a refugee camp erases one's individuality, what communities demand of women, and how, in the face of great loss and scrutiny, one can find a way to redeem individuality by redefining love, sex and gender roles."—The Rumpus

"Sulaiman Addonia's Silence Is My Mother Tongue, perhaps in defiance of expectations, sings with the confidence of characters who believe that they are going to end up somewhere better, someday, even if they have to wade through the mire to get there."—Ploughshares

"Jagged yet subtle. . . . The structure keeps upending the ordinary. [Silence Is My Mother Tongue] reads like a picaresque in a nutshell, tightly confined yet full of reversals. Some are swift as a finger-snap, others unfold like a ballad. . . . Addonia [has] asserted the humanity of people often cloaked in shadow."—The Brooklyn Rail

"Mesmerizing and provocative. . . . Addonia writes with poetry and depth. His sentences are plaintive vessels for what has been lost."—Triangle House

"The novel's vignette structure underscores the fragmentary, hallucinatory quality of trauma and memory. A memorable chronicle about 'the bitterness of exile' and the endurance of the spirit."—Kirkus Reviews

"Darkly poetic. . . . [Sulaiman Addonia] maintains a strong voice with vibrant lyrical imagery."—Publishers Weekly

"Addonia's chorus of characters is exquisite, and his interrogation of both traditionalism and love in the desperate circumstances of a Sudanese refugee camp makes for a stunning, enveloping read."—Wayétu Moore, author of The Dragons, the Giant, The Women

"Stunning. Addonia's prose layers imagery and insight to keep us glued right to the spectacular end. This is a splendid, compulsive reading experience."—Maaza Mengiste, author of Beneath the Lion's Gaze

"Silence Is My Mother Tongue is a remarkably accomplished and circuitously constructed tale that highlights the poetic aesthetic of its creator as well as its central protagonist."—Ru Freeman, author of On Sal Mal Lane
Graywolf Press, 9781644450338, 208pp.
Publication Date: September 8, 2020
About the Author
Sulaiman Addonia spent his early life in a refugee camp and went on to earn an MA from the University of London. His novel The Consequences of Love was short-listed for the Commonwealth Writers' Prize and has been translated into more than twenty languages.