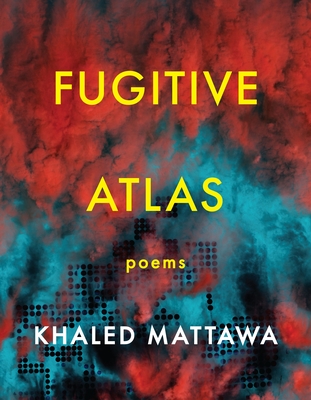 Fugitive Atlas
Poems
Paperback

* Individual store prices may vary.
Description
Khaled Mattawa's poetry contains "the complexity of a transnational identity" (MacArthur Fellowship citation)

Fugitive Atlas is a sweeping, impassioned account of refugee crises, military occupations, and ecological degradation, an acute and probing journey through a world in upheaval. Khaled Mattawa's chorus of speakers finds moments of profound solace in searching for those lost—in elegy and prayer—even when the power of poetry and faith seems incapable of providing salvation.

With extraordinary formal virtuosity and global scope, these poems turn not to lament for those regions charted as theaters of exploitation and environmental malpractice but to a poignant amplification of the lives, dreams, and families that exist within them. In this exquisite collection, Mattawa asks how we are expected to endure our times, how we inherit the journeys of our ancestors, and how we let loose those we love into an unpredictable world.
Praise For Fugitive Atlas: Poems…
"In poems that tenderly call us to action, Mattawa awakens readers to the human and geographical devastation wrought by the tendency to 'other' people. Fugitive Atlas is a collaborative prayer for a shattered earth."—Ploughshares

"[A] melodious collection. . . . [Khaled Mattawa] becomes a cartographer of reality across many countries, poetic landscapes, and styles. In a series of imaginative and provocative poems, he asks us to consider the borders—at times government ordained, at times personally, financially, and culturally imposed—that exist off the map and apply meaning to our real lives."—Chapter16

"Khaled Mattawa's arresting, dynamic new collection, Fugitive Atlas, maps and confronts the aftermath of the Arab Spring and the global refugee crisis through a wide range of speakers and rich braiding of forms, and the urgency of scope expands to include all of us."—Arthur Sze

"Khaled Mattawa is a master. How do his poems sear and soothe, so brilliantly, at once? He voyages in the realms of the unspeakable and speaks for us all."—Naomi Shihab Nye

"Fiercely principled and faithful to a revelatory wildness of mind. . . . Fugitive Atlas arrives with an embodied sense of spiritual purpose unlike any collection of poetry I have recently encountered."—Major Jackson

"These are poems of exceptionally real human and political consequence, filled with news that the news does not speak. Khaled Mattawa's Fugitive Atlas is a work of uncommon, poignant character, of resonance and depth."—Alberto Ríos

"Khaled Mattawa's Fugitive Atlas is astonishing. It would be a standout book of poetry for any generation, and it is much more. . . . No book by anyone in any genre I can think of gets at this regional and global tragedy as this book does—from the conflicted inside."—William Olsen
Graywolf Press, 9781644450376, 112pp.
Publication Date: October 20, 2020
About the Author
Khaled Mattawa is the author of five collections of poetry. A MacArthur Fellow, he teaches at the University of Michigan.