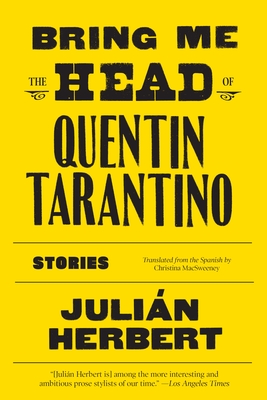 Bring Me the Head of Quentin Tarantino
Stories
Paperback

* Individual store prices may vary.
Description
Virtuosic stories by one of "the more interesting and ambitious prose stylists of our time" (Los Angeles Times)

In this madcap, insatiably inventive, bravura story collection, Julián Herbert brings to vivid life people who struggle to retain a measure of sanity in an insane world. Here we become acquainted with a vengeful "personal memories coach" who tries to get even with his delinquent clients; a former journalist with a cocaine habit who travels through northern Mexico impersonating a famous author of Westerns; the ghost of Juan Rulfo; a man who discovers music in his teeth; and, in the deliriously pulpy title story, a drug lord who looks just like Quentin Tarantino, who kidnaps a mopey film critic to discuss Tarantino's films while he sends his goons to find and kill the doppelgänger that has colonized his consciousness. Herbert's astute observations about human nature in extremis feel like the reader's own revelations.

The antic and often dire stories in Bring Me the Head of Quentin Tarantino depict the violence and corruption that plague Mexico today, but they are also deeply ruminative and layered explorations of the narrative impulse and the ethics of art making. Herbert asks: Where are the lines between fiction, memory, and reality? What is the relationship between power, corruption, and survival? How much violence can a person (and a country) take? The stories in this explosive collection showcase the fevered imagination of a significant contemporary writer.
Praise For Bring Me the Head of Quentin Tarantino: Stories…
"Bring Me the Head of Quentin Tarantino is an ambitious, generous boon. While this deliberately challenging read might turn off a casual reader, Herbert's parody of Tarantino's style and MacSweeney's lively translation chart unmarked territory for other artists to explore. This book does future writers a kindness: Herbert is practically begging to be turned into kitsch."—Ploughshares

"Whether he's writing unpredictable fiction or exploring discomfiting moments in history, Julián Herbert is a relentless chronicler of human complexity. With his latest book, the memorably-titled Bring Me the Head of Quentin Tarantino, Herbert shows what he can do within the realm of short fiction, providing another demonstration of his abilities as a writer."—Vol. 1 Brooklyn

"Electrifying. . . . Reunited with award-winning translator Christina MacSweeney, Herbert presents 10 stories ready to disturb, quite possibly even disgust. That said, even for the most reluctant readers, the surprisingly immersive humor and slyly playful wit make resistance futile."—Shelf Awareness

"Herbert . . . is a deft explorer of the darker corners of Mexican society. . . . The title story is a tour de force. . . . [Herbert is] a writer worth seeking out."—Kirkus Reviews

"The playful, surreal collection from Mexican writer Herbert evokes a version of contemporary Mexico where pretentious critics and conceptual artists rub up against ultra-violent drug cartel leaders. . . . Herbert's stories use a light touch to explore the dilemma of the intellectual enmeshed in a crudely vicious world. This provocatively cerebral volume should amuse those with a taste for literary horror."—Publishers Weekly

"Explosive, visceral, and impossible to forget."—Booklist

"[A] rising star. . . . [Julián Herbert] absolutely nails sour, blustery men. . . . The results are both entertaining and corrosive, disturbing and socially relevant, sordid and sleekly accomplished."—Library Journal
Graywolf Press, 9781644450413, 192pp.
Publication Date: November 3, 2020
About the Author
Julián Herbert was born in Acapulco in 1971. He is a writer, musician, and teacher, and is the author of The House of the Pain of Others and Tomb Song.